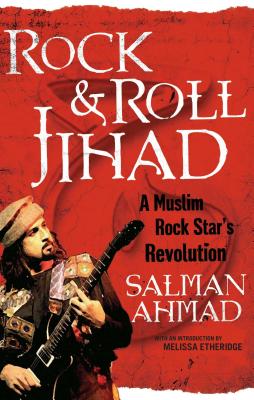 Rock & Roll Jihad
A Muslim Rock Star's Revolution
Paperback

* Individual store prices may vary.
Description
"The story you are about to read is the story of a light-bringer....Salman Ahmad inspires me to reach always for the greatest heights and never to fear....Know that his story is a part of our history."
-- Melissa Etheridge, from the Introduction

With 30 million record sales under his belt, and with fans including Bono and Al Gore, Pakistanborn Salman Ahmad is renowned for being the first rock & roll star to destroy the wall that divides the West and the Muslim world. Rock & Roll Jihad is the story of his incredible journey.

Facing down angry mullahs and oppressive dictators who wanted all music to be banned from the Islamic Republic of Pakistan, Salman Ahmad rocketed to the top of the music charts, bringing Westernstyle rock and pop to Pakistani teenagers for the first time. His band Junoon became the U2 of Asia, a sufi - rock group that broke boundaries and sold a record number of albums. But Salman's story began in New York, where he spent his teen years learning to play guitar, listening to Led Zeppelin, hanging out at rock clubs and Beatles Fests, making American friends, and dreaming of rock-star fame. That dream seemed destined to die when his family returned to Pakistan and Salman was forced to follow the strictures of a newly religious -- and stratified -- society. He finished medical school, met his soul mate, and watched his beloved funkytown of Lahore transform with the rest of Pakistan under the rule of Zia into a fundamentalist dictatorship: morality police arrested couples holding hands in public, Little House on the Prairie and Live Aid were banned from television broadcasts, and Kalashnikovs and rocket launchers proliferated on college campuses via the Afghani resistance to Soviet occupation in the north.

Undeterred, the teenage Salman created his own underground jihad: his mission was to bring his beloved rock music to an enthusiastic new audience in South Asia and beyond. He started a traveling guitar club that met in private Lahore spaces, mixing Urdu love poems with Casio synthesizers, tablas with Fender Stratocasters, and ragas with power chords, eventually joining his first pop band, Vital Signs. Later, he founded Junoon, South Asia's biggest rock band, which was followed to every corner of the world by a loyal legion of fans called Junoonis. As his music climbed the charts, Salman found himself the target of religious fanatics and power-mad politicians desperate to take him and his band down. But in the center of a new generation of young Pakistanis who go to mosques as well as McDonald's, whose religion gives them compassion for and not fear of the West, and who see modern music as a "rainbow bridge" that links their lives to the rest of the world, nothing could stop Salman's star from rising.

Today, Salman continues to play music and is also a UNAIDS Goodwill Ambassador, traveling the world as a spokesperson and using the lessons he learned as a musical pioneer to help heal the wounds between East and West -- lessons he shares in this illuminating memoir.
Praise For Rock & Roll Jihad: A Muslim Rock Star's Revolution…
"exciting and inspiring journey…Ahmad's sincere invitation for readers to look at the world from his point of view, a Sufi Muslim rocker, makes it impossible for readers to put down the book…The journey is oftentimes emotional, and sometimes heartbreaking…a must-read for those people who also believe in Ahmad's idealism, those who appreciate foreign cultures and those who want to be inspired. Grade: A" —Athalia Nakula, Campus Circle

"In Rock & Roll Jihad, Ahmad takes us inside Junoon and the universal connections that Ahmad is working toward…There are some hairy stories about how the band was confronted with intimidation and violence in Pakistani politics. Through regime changes, Ahmad and his crew are steadfast in their belief in tolerance, humanity, and justice—and determined to rock out in the process. The man is an achiever who falls into one great opportunity after another…Ahmad is…a true believer, not only in God but in himself…This isn't another book about sex, drugs, and rock & roll—it's about believing in yourself, the potential for humanity, and rock & roll…Understanding and common ground can be one and the same, and Salman Ahmad makes a case against extremism, religious supremacy, and intolerance….In spite of religious, political, or cultural differences, Rock & Roll Jihad proves how the power of music is still a force to unite people." –Krist Novoselic, Seattle Weekly

"Pakistan's leading rock star tells his unusual life story, which involves bringing Western-style rock to a country where music was banned, and building a bridge between East and West." —Ode Magazine

"[E]xposes the often hidden nuances of a society and culture that is of prime importance to international events today...fascinating...This is the story of a dreamer who resisted dogma and an artificial and oppressive environment and ended up becoming a pop icon." —IndiaCurrents

"Fiery...pivotal in recpaturing the true essence of the word [jihad]...a must-read not only from the point of view of understanding the fusion between East and West, but for its entertainment value." —Divanee.com

"A personal narrative that is inextricably tied to the collective history of the country of his birth, [lending] the book its essential readibility. The grand sweep of Pakistani history...is captured here by someone who has actually helped shape that history. From the hushed, underground music scene of the Zia era to the heady and hopeful days of democracy, culminating in hormone-marred pop concerts, Ahmad brings Pakistan's fascinatingly critical cultural evolution to life with a deeply personal recounting...a lyrical and poignant read" —Daily Times (PK)
Free Press, 9781416597681, 240pp.
Publication Date: October 18, 2014
About the Author
Salman Ahmad is a Pakistani rock star whose band Junoon has sold over 25 million albums. A medical doctor by training, Salman currently travels the globe as a United Nations Goodwill Ambassador, spreading a message of harmony and reconciliation between the West and the Muslim world. He was a featured performer at the 2007 Nobel Peace Prize ceremony, alongside musical superstars such as Alicia Keys, Melissa Etheridge and Annie Lennox. He currently teaches a course on Muslim music and poetry at the City University of New York's Queens College campus. Salman spends his free time moving between Pakistan and Rockland County, New York, with his wife Samina and their three sons.