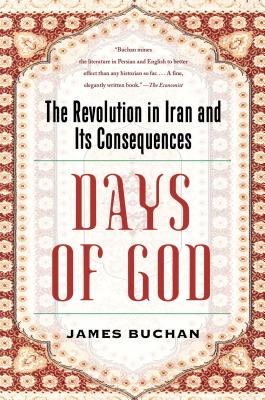 Days of God
The Revolution in Iran and Its Consequences
Hardcover

* Individual store prices may vary.
Description
A myth-busting insider's account of the Iranian Revolution of 1979 that destroyed US influence in the country and transformed the politics of the Middle East and the world.

The 1979 Islamic revolution in Iran was one of the seminal events of our time. It inaugurated more than thirty years of war in the Middle East and fostered an Islamic radicalism that shapes foreign policy in the United States and Europe to this day.

Drawing on his lifetime of engagement with Iran, James Buchan explains the history that gave rise to the Revolution, in which Ayatollah Khomeini and his supporters displaced the Shah with little diffi­culty. Mystifyingly to outsiders, the people of Iran turned their backs on a successful Westernized government for an amateurish religious regime. Buchan dispels myths about the Iranian Revolution and instead assesses the historical forces to which it responded. He puts the extremism of the Islamic regime in perspective: a truly radical revolution, it can be compared to the French or Russian Revolu­tions. Using recently declassified diplomatic papers and Persian-language news reports, diaries, memoirs, interviews, and theological tracts, Buchan illumi­nates both Khomeini and the Shah. His writing is always clear, dispassionate, and informative.

The Iranian Revolution was a turning point in modern history, and James Buchan's Days of God is, as London's Independent put it, "a compelling, beautifully written history" of that event.
Praise For Days of God: The Revolution in Iran and Its Consequences…
"The author's grasp of Persian literature and the Persian language allows him to treat Iran's 1979 Islamic Revolution with rare insight and compassion."
— Roya Hakakian

"Magisterial. . . . James Buchan's Days of God, a survey of the Pahlavi years, with spectacular detail on the revolution itself, includes some deft portraiture and notes of literary grace. Buchan, who lived in Iran in the late 1970s, writes with an irreverence and confidence born of long familiarity, and the Iran of his history feels vibrantly present."
— Laura Secor

"[Buchan] mines the literature in Persian and English to better effect than any historian so far....[a] fine, elegantly written book."
— The Economist

"This is a compelling, beautifully written history of a country which has produced great literature, art and a warm people whose lives have been manipulated by other countries with ulterior motives and by their own autocratic and theocratic dictators."
— Leyla Sanai

"A soundly argued account of the causes, course and consequences of the revolution . . . Buchan, a Persian scholar and former Financial Times foreign correspondent, puts his first-hand experience of Iran to perceptive use."
— Tony Barber

"A wonderfully detailed and authoritative account of the Shah's final days and the murder and mayhem that followed."
— Jonathan Rugman

"A superb and original history of the Iranian Revolution. It's essential reading."
— Simon Sebag Montefiore

"An outstanding analysis of the legacy of Iran's revolution."
— Sunday Times

"A well-informed account of revolutionary Iran."
— David Pryce-Jones

"May be the best single general-audience book on the Iranian Revolution. . . . Days of God is a balanced portrait of an unbalanced time, and one of the most distinguished books about a revolution that has still not reached its conclusion."
— Graeme Wood
Simon & Schuster, 9781416597773, 432pp.
Publication Date: October 15, 2013
About the Author
James Buchan holds a degree in Persian studies from Oxford University. He worked for twelve years as a foreign correspondent for the Financial Times. He has written three works of nonfiction and six novels, including Heart's Journey in Winter, which won the Guardian Fiction Award, and A Good Place to Die, which was a New York Times Notable Book. He lives on a farm in eastern England.
or
Not Currently Available for Direct Purchase