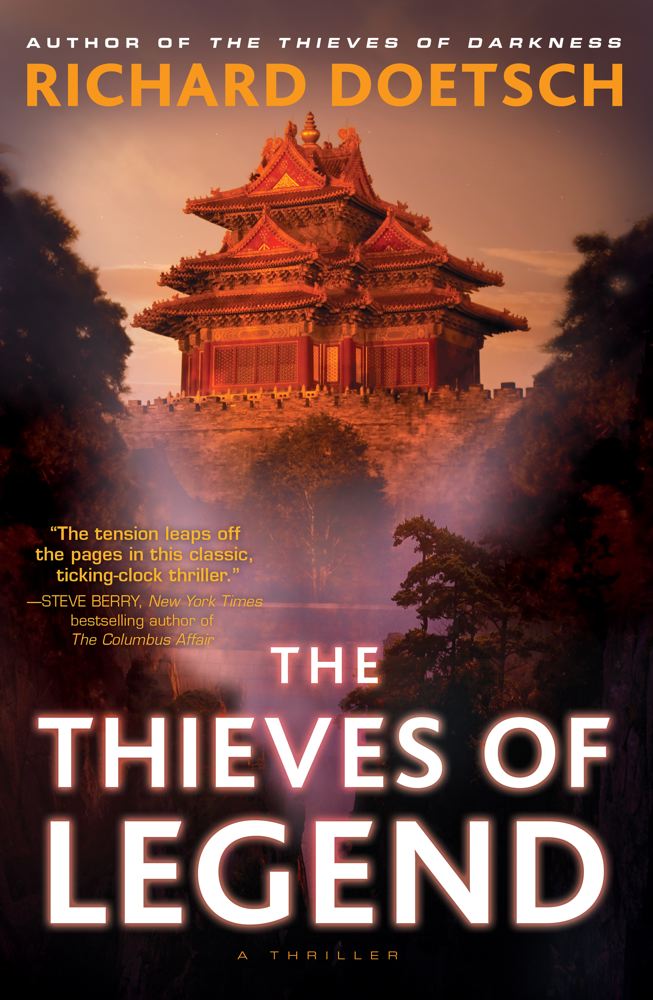 The Thieves of Legend
Hardcover

* Individual store prices may vary.
Other Editions of This Title:
Mass Market (10/29/2013)
Description
The next ingenious thriller in the Thieves series after The Thieves of Darkness--reformed thief Michael St. Pierre and his crew must steal two artifacts that once combined, hold the answer to one of history's greatest mysteries. In a world of dark and light, where East meets West, a horrific act of violence propels former thief Michael St. Pierre into a mystery that began five hundred years ago. . . . In Richard Doetsch's next unforgettable Thieves thriller, Michael and his ex-girlfriend KC Ryan have been blackmailed by a U.S. Army colonel. They are to travel to opposite ends of China, and each is responsible for stealing a piece of an ancient puzzle: a diary and a compass. With their lives dependent on each other's success, they must face off against the complex underworld of the Chinese triads, a twisted female assassin, and a madman whose only desire is to possess the secrets held within the pages of the diary--knowledge that would give him enormous power and lead to the downfall of nations. Moving from the glittering casinos of Macau to its dark and dangerous backstreets; from the palace at the heart of China's Forbidden City to the medieval castles of Spain; from the seaside mansions along the Amalfi Coast to an uncharted Pacific island, Michael is in a race against time. He has less than five days to uncover a five-hundred-year-old mystery--and to save KC from certain death.
Praise For The Thieves of Legend…
"The tension leaps off the pages in this classic, ticking-clock thriller. Watch out. You'll grip the pages so tight your knuckles will turn white." —Steve Berry



"Doetsch steps up his game with his fourth thriller featuring ex-thief Michael St. Pierre.... Plenty of action blends with interesting history and criminal tradecraft for a satisfying read."



"Richard Doetsch's The Thieves of Legend stole my breath with the sheer audacity of its storytelling, proving yet again that this series gets better with every installment. Bold, richly told, and rollicking with adventure, here is thriller that demands to be read in one tension-wrought sitting. Count me a fan for life!"

-James Rollins


"Doetsch continues to demonstrate why he's one of the best thriller writers in the business.... The heroes and villains are all well-rounded, and the plot twists are exceptional. Another strong entry in Doetsch's Thieves series, following The Thieves of Darkness (2010).
Atria Books, 9781416598985, 406pp.
Publication Date: November 27, 2012
About the Author
Richard Doetsch is the international bestselling author of five previous thrillers, including The Thieves of Faith, The Thieves of Heaven, which is currently being developed for film by Twentieth Century Fox, The Thieves of Darkness, which Doetsch is co-adapting with Shane Salerno (Armageddon, Hawaii Five-0), The 13th Hour, which is being adapted by New Line Cinema, and Half-Past Dawn. He lives in New York with his family. Visit RichardDoetsch.com.
or
Not Currently Available for Direct Purchase