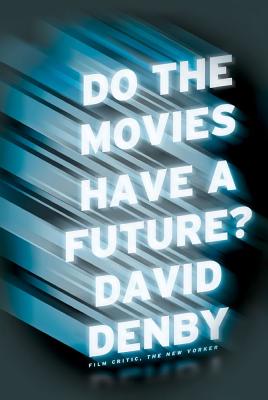 Do the Movies Have a Future? (Hardcover)
Simon & Schuster, 9781416599470, 347pp.
Publication Date: October 2, 2012
* Individual store prices may vary.
or
Not Currently Available for Direct Purchase
Description
The New Yorker critic, one of our most important film writers draws from a selection of his published pieces over a dozen years to examine the art, business, and future of what used to be America's primary popular entertainment and is now an endangered species. In the second decade of the twenty-first century, the movies, once America's primary popular art form, have become an endangered species. Do the Movies Have a Future? is a rousing and witty call to arms. In these sharp and engaging essays and reviews, New Yorker movie critic David Denby weighs in on "conglomerate aesthetics," as embodied in the frenzied, weightless action spectacles that dominate the world's attention, and "platform agnosticism," the notion that movies can be watched on smaller and smaller screens: laptops, tablets, even phones. At the same time, Denby reaffirms that movies are our national theater, and in this exhilarating book he celebrates such central big movies as Avatar and The Social Network as well as small but resonant triumphs like There Will Be Blood and The Tree of Life. Denby joyously celebrates what remains of the shared culture in romantic comedy, high school movies, and chick flicks; he assesses the expressive triumphs and failures of auteurs Quentin Tarantino, the Coen brothers, Pedro Almodovar, and David Fincher. Refusing nostalgia, he mines the past for strength, examining the changing nature of stardom and the careers of Joan Crawford, Otto Preminger, and Victor Fleming, and the continuing self-invention of Clint Eastwood. And he recreates the excitement of reading two critics who embodied the film culture of their times, James Agee and Pauline Kael. Wry, passionate, and incisive, Do the Movies Have a Future? is both a feast of good writing and a challenge to fight back. It is an essential guide for movie lovers looking for ammunition and hope.
Praise For Do the Movies Have a Future?…
"A must for movie lovers"



"David Denby's work is learned, wry, quietly passionate, utterly absorbing and unfailingly intelligent – criticism as it is meant to be done and these days rarely is. Some of his pieces will, I think, stand as definitive for years to come. If movies have a future – and I think they do – it will be thanks in part to critics of Denby's rare and demanding sensibility."

-Richard Schickel, film critic, author of Conversations with Scorsese


"New Yorker film critic Denby's fascinating collection of essays on the business, the art, and the sacred rituals of movie making and movie watching explores what part film plays in our collective consciousness, particularly in this new digital age."


"This collection shows a superb critic at his best – thoughtful, probing, his breadth of cinematic knowledge gracefully dispensed. Crucial to me is how Denby constantly makes us aware of the context of movies – how the present plays off the past, and the ways in which it comes up short. Voicing the passion of many, this is a cri de coeur for what has increasingly become an oxymoron, Hollywood entertainment for adults."

-Molly Haskell, film critic, author of Frankly, My Dear


"Throughout his essays, he builds a convincing case for his contention that 'a healthy movie scene can't exist without critics'… Recommended for informed film buffs."
Advertisement