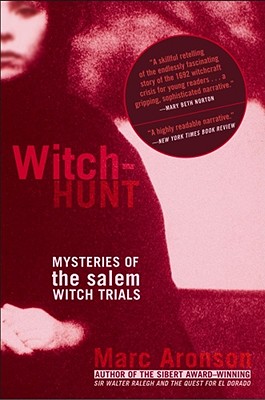 Witch-Hunt: Mysteries of the Salem Witch Trials (Paperback)
Mysteries of the Salem Witch Trials
Simon Pulse, 9781416903154, 272pp.
Publication Date: August 1, 2005
Description
Salem, Massachusetts, 1692. In a plain meetinghouse a woman stands before her judges. The accusers, girls and young women, are fervent and overexcited. The accused is a poor, unpopular woman who had her first child before she was married. As the trial proceeds the girls begin to wail, tear their clothing, and scream that the woman is hurting them. Some of them expose wounds to the horrified onlookers, holding out the pins that have stabbed them -- pins that appeared as if by magic. Are they acting or are they really tormented by an unseen evil? Whatever the cause, the nightmare has begun: The witch trials will eventually claim twenty-five lives, shatter the community, and forever shape the American social conscience.
Praise For Witch-Hunt: Mysteries of the Salem Witch Trials…
"Readers will be swept up in this complex mystery."
-- Publishers Weekly, starred review




"Excellent history writing."
-- Kirkus Reviews, starred review




"A legitimate piece of original scholarship that is at the same time an interesting narrative."
-- School Library Journal, starred review




"A gripping, sophisticated narrative that establishes the contemporary relevance of this oft-recounted tale. A brilliant appendix discussing the relationship of historical events to Arthur Miller's The Crucible will be of great interest to readers of all ages."
-- Mary Beth Norton, author of In the Devil's Snare: The Salem Witchcraft Crisis of 1692




"A welcome book for young adults that would also serve regular adults much better than most books about the Salem witch trials. Beautifully written and accurate. Teachers should throw away other books they have been using for young adults and turn to this one."
-- Bernard Rosenthal, author of Salem Story: Reading the Witch Trials of 1692




"A skillful retelling of the endlessly fascinating story of the 1692 witchcraft crisis for young readers...a gripping, sophisticated narrative."
-- Mary Beth Norton




"A highly readable narrative."
-- New York Times Book Review
Advertisement