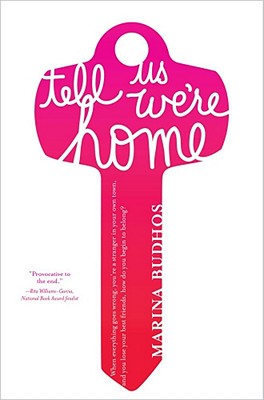 Tell Us We're Home
Hardcover

* Individual store prices may vary.
Other Editions of This Title:
Paperback (5/3/2011)
Description
Jaya, Maria, and Lola are just like the other eighth-grade girls in the wealthy suburb of Meadowbrook, New Jersey. They want to go to the spring dance, they love spending time with their best friends after school, sharing frappés and complaining about the other kids. But there's one big difference: all three are daughters of maids and nannies. And they go to school with the very same kids whose families their mothers work for.

That difference grows even bigger—and more painful—when Jaya's mother is accused of theft and Jaya's small, fragile world collapses.

When tensions about immigrants start to erupt, fracturing this perfect, serene suburb, all three girls are tested, as outsiders—and as friends. Each of them must learn to find a place for themselves in a town that barely notices they exist.

Marina Budhos gives us a heartbreaking and eye-opening story of friendship, belonging, and finding the way home.
Praise For Tell Us We're Home…
*"These fully realized heroines are full of heart, and their passionate struggles against systemic injustice only make them more inspiring. Keenly necessary." --Kirkus, STARRED REVIEW

"The characters and setting have depth. . . . Budhos offers no easy answers here, just the hope that the characters, and society in general, will find the right direction." -- Booklist

"Moms and grandmothers, if you read The Help by Kathryn Stockett, you will appreciate that this book is along the same lines for contemporary adolescent girls… The girls' struggles and their mothers' challenges present jarring situations about perspective and compassion. We recommend this book, especially if you participate in a mother-daughter book club or any book-discussion group." --The Winston Salem Journal

"Tell Us We're Home reveals the thoughts, the aspirations, and ultimately the humanity of three young women whose immigrant and class status have made them outsiders but no longer invisible." --Readergirlz.blogspot.com

"A substantive, timely read about the current state of immigrants in the US." --Bulletin of the Center for Children's Books

"Budhos tells [Jaya, Lola, and Maria's] story with a warmth that is ultimately sweet and rewarding…[Tell Us W'e're Home] is elevated by writing that is intelligent and earnestly passionate."
--The New York Times Book Review

"A thoroughly enjoyable and insightful read that treats the immigrant characters as fully developed rather than stereotypes." –VOYA
Atheneum Books for Young Readers, 9781416903529, 304pp.
Publication Date: May 4, 2010
About the Author
Marina Budhos is an author of award-winning fiction and nonfiction. Her novel Watched received an Asian/Pacific American Award for Literature YA Honor and a Walter Dean Myers Award Honor. Her other novels include Tell Us We're Home, a 2017 Essex County YA Pick; Ask Me No Questions, a recipient of the James Cook Teen Book Award; The Professor of Light; House of Waiting; and the nonfiction book Remix: Conversations with Immigrant Teenagers. With her husband Marc Aronson, she is the coauthor of Eyes of the World: Robert Capa, Gerda Taro, and the Invention of Modern Photojournalism and Sugar Changed the World: A Story of Magic, Spice, Slavery, Freedom, and Science, a 2010 Los Angeles Times Book Award Finalist. Budhos has been a Fulbright Scholar to India, received two Fellowships from the New Jersey Council on the Arts, and is a professor of English at William Paterson University. You can visit her online at MarinaBudhos.com.