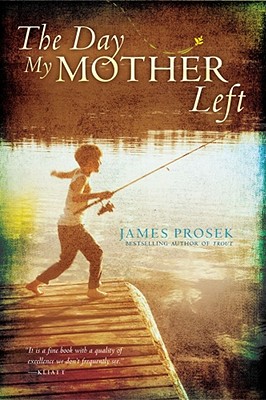 The Day My Mother Left (Paperback)
Simon & Schuster Children's Publishing, 9781416907718, 290pp.
Publication Date: March 10, 2009
* Individual store prices may vary.
or
Not Currently Available for Direct Purchase
Description
Jeremy's whole life changed the day his mother left. When his mother leaves with the father of his worst enemy at school, nine-year-old Jeremy seeks to make sense of her abandonment. He throws himself into recreating the Book of Birds, a collection of drawings that his mother took with her on the day she left. While his father fights his own depression and his sister distances herself from their lives, Jeremy turns wholeheartedly to nature, and finds solace in the quiet comfort of drawing. In this novel, James Prosek tells Jeremy's story without blame, without self-pity, and without excuses. The Day My Mother Left should be read by anyone who has gone through the pain of losing a parent, and by anyone who wants to meet Jeremy, a boy who can see inside himself the person he wants to become.
Praise For The Day My Mother Left…
"One of America's more gifted young writers -- and this deeply felt story reaffirms his great promise."
-- Tom Brokaw



"The Day My Mother Left is a deeply moving and lucidly expressed short novel by one of our country's most gifted writers. James Prosek teaches me that what does not destroy us strengthens us."
-- Harold Bloom



"Prosek's artist's eye (a "cold, bluish moon," a young girl's skin like snow against a green couch) fills the white space left by his spare language. This novel for young people has all the innocence and beauty of [his] paintings." --LA Times



"His(Jeremy) growing understanding of his artistic talent, and how it can shore him up and make him stronger, is the message of the book, and it's conveyed in simple, powerful prose. "A" --EntertainmentWeekly.com



"Unexpected details and insight into a young, mixed-up mind make the book a pleasing, emotional read for all ages." -- USA Today



"The 26 etchings, mostly of birds, made by Prosek on copper plates and used as chapter headings, are indeed lovely, and give young readers a visual sense of Jeremy's naturalistic world." -- Kirkus



"Prosek's story is the sort English teachers would love to assign. It is a fine book with a quality of excellence we don't frequently see." -- KLIATT



"Prosek movingly chronicles young Jeremy's emotional upheaval after his mother abandons his family, in this sophisticated novel." -- Publishers Weekly
Advertisement