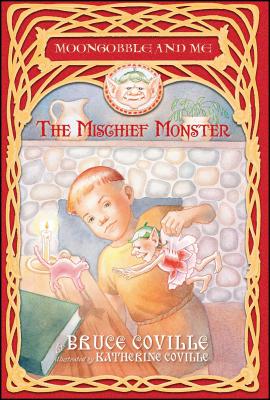 The Mischief Monster (Moongobble and Me) (Paperback)
Aladdin, 9781416908081, 80pp.
Publication Date: August 5, 2008
* Individual store prices may vary.
Description
Sometimes when you get what you want, it's not as good as you thought it would be. Ever since Edward's good friend Moongobble became a full magician, life has been rather boring. No more adventures.

But then Snelly comes bursting into their lives. Snelly is small -- only a foot tall -- but she's a bundle of trouble. She's the daughter of the queen of the Mischief Monsters, and she has run away. Edward, Moongobble, and their friends learn that they must return Snelly to her home right away, or her mom will start a Mischief War. And that would be really annoying!

So Edward, Moongobble, Urk, and Fireball set off on another adventure, this time to return Snelly to her home in Monster Mountain. But when they get there they find a bigger surprise waiting for them than they ever could have imagined. And Edward won't have to worry about being bored for a very long time!
About the Author
Bruce Coville has published more than one hundred books, which have sold more than sixteen million copies. Among his most popular titles are My Teacher Is an Alien, Into the Land of the Unicorns, and The Monster's Ring. Bruce also founded Full Cast Audio, a company that creates recordings of the best in children's and young adult literature. He lives in Syracuse, New York, with his wife, Katherine.

Katherine Coville is an artist, a sculptor, and a doll maker who specializes in highly detailed images of creatures never before seen in this world. She has illustrated several books written by her husband, Bruce Coville, including Goblins in the Castle, Aliens Ate My Homework, and the Space Brat series. Bruce and Katherine live in Syracuse, New York, with a varying assortment of pets and children.