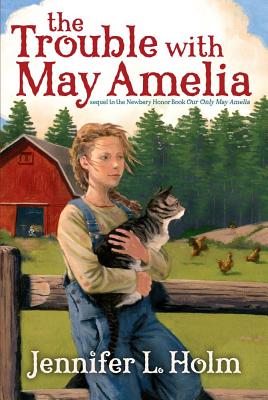 The Trouble with May Amelia (Paperback)
Atheneum Books for Young Readers, 9781416913740, 224pp.
Publication Date: May 1, 2012
Other Editions of This Title:
Hardcover (4/5/2011)
Compact Disc (1/10/2012)
Prebound (5/1/2012)
* Individual store prices may vary.
Description
The long-awaited and highly anticipated sequel to the Newbery Honor winner Our Only May Amelia, by the bestselling and cherished author Jennifer Holm.

May Amelia Jackson captured readers' hearts in the Newbery Honor Book Our Only May Amelia. Now, after more than ten years, Jennifer Holm is bringing this beloved character back in a beautifully written story that's both heartbreaking and hilarious.
May Amelia lives with her pioneer family on a farm in 1900, but she just can't act the part of a proper young lady—and it doesn't help that she has seven brothers and a Pappa who proclaim that Girls Are Useless. May Amelia jumps at the chance to earn her father's respect when he asks her to translate for a gentleman who's interested in buying their land and making them rich. But when the deal turns out to be a scam, Pappa places all the blame on May. It's going to take a lot of sisu—that's Finnish for guts—to make things right.
About the Author
Jenni Holm is the Newbery Honor-winning author of Our Only May Amelia, Penny from Heaven, Turtle in Paradise, and the BabyMouse graphic novel series. She lives in Northern California with her family.

Adam Gustavson is a graduate of Rowan University and the Master of Fine Arts Illustration program at the School of Visual Arts in New York. In addition to illustrating picture books, he currently teaches at Passaic County Community College and Seton Hall University. He lives and paints in West Orange, New Jersey, with his wife, their children, several guitars, and a ferret named Gracie.
Praise For The Trouble with May Amelia…
"Holm incorporates warmth, humor, excitement and even a wedding into her story. . . . Narrating events in dryly witty, plainspoken first-person, this indomitable teen draws readers in with her account, through which her world comes alive. Readers who enjoyed the first novel should embrace May Amelia again and may well believe that the only "trouble" with her is that the sequel didn't happen sooner.
-- Kirkus Reviews



* "Anyone interested in learning to write crowd-pleasing historical fiction for elementary school readers would be wise to study Holm's work. Since Our Only May Amelia (HarperCollins, 1999), Holm has collected three Newbery Honors, and this sequel demonstrates her mastery of writing a complete, exciting story in a trim novel. Twelve-year-old May Amelia Jackson lives on a farm in Washington State in 1900 with her parents, Finnish immigrants, and a passel of brothers. Life is hard, but Holm works humor into even the grimmest situations, and Gustavson's chapter-opening spot art adds a cozy, atmospheric touch. A ransacking bull (named Friendly) knocks down the outhouse (with May Amelia inside); suitors romancing Miss McEwing are sent packing in various, inventive ways lest the school lose its beloved teacher. Judicious use of Finnish phrases adds flavor, and details ground the story in an era when boys were still routinely "shanghaied" (involuntarily pressed into service on ships bound for Asia). "Best Brother" Wilbert tells her she's as irritating as a grain of sand in an oyster, and it's mighty fun to watch May Amelia morph into a pearl.
--Publishers Weekly, starred review