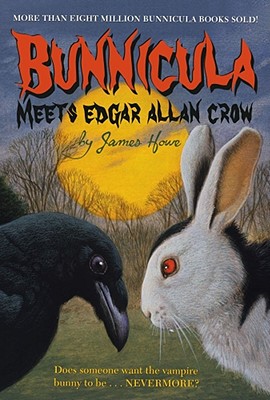 Bunnicula Meets Edgar Allan Crow (Bunnicula and Friends) (Paperback)
Atheneum Books for Young Readers, 9781416914730, 160pp.
Publication Date: August 5, 2008
Other Editions of This Title:
Hardcover (10/1/2006)
Prebound (8/5/2008)
* Individual store prices may vary.
Description
The Monroe house is going mad with excitement. Pete has just won a contest, and the prize is a school visit from none other than M. T. Graves, Pete's idol and the bestselling author of the FleshCrawlers series. He's even going to stay with the Monroes while he's visiting! Harold and Howie are thrilled, but Chester the cat is suspicious. Why does Graves dress all in black? Why doesn't the beady-eyed crow perched on his shoulder say anything? Why has a threatening flock of crows invaded the backyard? And most worrisome of all: In each of the FleshCrawlers books, why does something bad always happen to the pets? Suddenly, Graves's interest in all of the animals -- especially Bunnicula -- looks far from innocent. It's up to Chester, Harold, and Howie to find out if M. T. Graves and Edgar Allan Crow are really devising a plot to make their beloved bunny. . . NEVERMORE.
About the Author
James Howe is the author of more than ninety books for young readers. Bunnicula, coauthored by his late wife Deborah and published in 1979, is considered a modern classic of children's literature. The author has written six highly popular sequels, along with the spinoff series Tales from the House of Bunnicula and Bunnicula and Friends. Among his other books are picture books such as Horace and Morris but Mostly Dolores and beginning reader series that include the Pinky and Rex and Houndsley and Catina books. He has also written for older readers. The Misfits, published in 2001, inspired the antibullying initiative No Name-Calling Week, as well as three sequels, Totally Joe, Addie on the Inside, and Also Known as Elvis. A common theme in James Howe's books from preschool through teens is the acceptance of difference and being true to oneself. Visit him online at JamesHowe.com.
Praise For Bunnicula Meets Edgar Allan Crow (Bunnicula and Friends)…
"Bunnicula is the kind of story that does not age, and in all probability, will never die. Or stay dead, anyway. . . ." -- Neil Gaiman

"Bunnicula was one funny, scary, must-read vampire bunny when he first showed up. He hasn't changed a bit. Very scary. Very funny." -- Jon Scieszka

"As a kid, I saw the classic movie Dracula and became instantly afraid of vampires. Many years later, I read the classic children's book Bunnicula. Now -- in addition to vampires -- I am also afraid of bunnies. I hope you're happy, Jim." -- Barbara Park

"James Howe is the king! Bunnicula rules!!!" -- Dav Pilkey