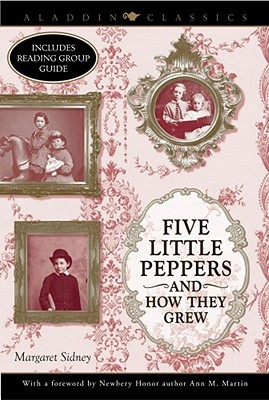 Five Little Peppers and How They Grew (Aladdin Classics) (Paperback)
Aladdin, 9781416916178, 352pp.
Publication Date: June 1, 2006
Other Editions of This Title:
Digital Audiobook (12/31/2005)
Paperback (1/1/2009)
Paperback (5/11/2015)
Paperback (12/20/2011)
Paperback (11/1/2017)
Paperback (1/1/2014)
Paperback (5/4/2013)
Paperback (10/7/2018)
Paperback (5/26/2018)
Paperback (7/12/2018)
Paperback (7/7/2014)
Paperback (9/11/2017)
Paperback (4/12/2019)
Paperback (10/1/2008)
Paperback (12/9/2008)
Paperback (7/28/2015)
Paperback (12/11/2014)
Paperback (5/1/2014)
* Individual store prices may vary.
Description
Five Little Peppers and How They Grew was originally serialized in an 1880 edition of Wide Awake, a children's magazine. The publisher of the magazine, Daniel Lothrop, loved the Pepper stories so much that he published a hard-cover edition of the story -- and married the author in 1881. In 1883 the couple moved to historic Concord, Massachusetts, and resided in a house called the Wayside, which had previously been home to Nathaniel Hawthorne and also to Louisa May Alcott, the author of Little Women.
About the Author
Margaret Sidney's real name was Harriett Stone (1844-1924). She was born in Connecticut and authored twelve books about the Pepper clan. She is buried in Sleepy Hollow Cemetery in Massachusetts.

Ann M. Martin is the Newbery Honor author of A Corner of the Universe and the bestselling Baby-sitters Club series. She lives in New York.