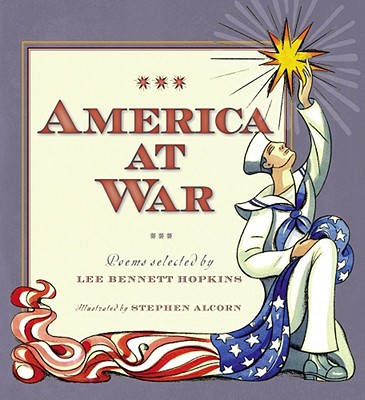 America at War (Hardcover)
Poems Selected by Lee Bennett Hopkins
Margaret K. McElderry Books, 9781416918325, 96pp.
Publication Date: March 4, 2008
* Individual store prices may vary.
Description
In this ever-timely collection of more than fifty poems and paintings divided into eight sections, one of America's most distinguished poets and anthologists, Lee Bennett Hopkins, and internationally acclaimed painter and printmaker Stephen Alcorn trace emotions of warfare from the American Revolution to the Iraq War.

Warfare has taken -- continues to take -- a tremendous toll on every man, woman, and child in our society as war weaves itself into the fabric of our shared past, present, and future. Raw emotions and results of warfare are expressed here through voices of beloved poets such as Langston Hughes, Carl Sandburg, Walt Whitman, Denise Levertov, and e. e. cummings -- and are movingly combined with voices of newer poets, including several soldiers who had courage to write poetry from front lines.

America at War exposes effects of war through hearts of poets and eyes of the artist, paying fitting tribute to those who have served, those now serving, and those who have given their lives so we all may live in peace.
About the Author
LEE BENNETT HOPKINS is a distinguished poet, writer, and anthologist whose poetry collections include the highly acclaimed Hand in Hand: An American History Through Poetry, illustrated by Peter Fiore, and My America: A Poetry Atlas of the United States, and America at War, both illustrated by Stephen Alcorn. Mr. Hopkins's numerous awards include the University of Southern Mississippi Medallion for "lasting contributions to children's literature" and both the Christopher Award and a Golden Kite Honor for his verse novel Been to Yesterdays: Poems of a Life. He lives in Cape Coral, Florida.

Born in the United States, Stephen Alcorn spent his formative, teenage years in Florence, Italy, where he attended the Istituto Statale d'Arte, an experience that infused his work with an appreciation for history and a passion for experimentation in a multitude of mediums. Since then he has embraced an equally broad spectrum of themes and subjects, including the interpretation of literary classics, interpretation of poetry, nineteenth-century American history, and notably, the African-American experience -- resulting in a stream of award-winning projects for adult, young adult, and young readers alike. America at War is Alcorn's fifth collaboration with Lee Bennett Hopkins.

Mr. Alcorn lives with his wife, Sabina, and four cats in an eighteenth-century farmhouse in the heart of Cambridge, New York, surrounded by the pastoral farmland of Washington County. An overview of his work may be viewed at www.alcorngallery.com.
or
Not Currently Available for Direct Purchase