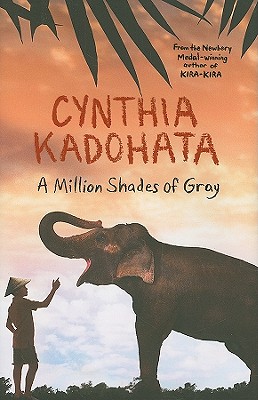 A Million Shades of Gray
Hardcover

* Individual store prices may vary.
Other Editions of This Title:
Digital Audiobook (1/4/2010)
Paperback (11/1/2011)
Prebound (11/1/2011)
Description
A boy and his elephant escape into the jungle when the Viet Cong attack his village immediately after the Vietnam war.
Praise For A Million Shades of Gray…
Set in the mid-'70s, this historical novel follows the struggle and ultimate destruction of a remote village of Dega people living in the hills of South Vietnam. Y'Tin wants nothing more than to be an elephant handler, and his dream is realized when, at the age of thirteen, he is assigned the all-important task of caring for Lady, one of the tribe's three elephants. Although the Americans have left Vietnam, the war rages on, despite the mandates of the Paris Peace Treaty, and when word reaches the small village that the North Vietnamese Army is about to attack, the entire community prepares to embark into the jungle where they have no hopes of survival. The NVA do arrive, and Y'Tin witnesses their extraordinarily violent attack on his home and neighbors; he and his friend Y'Juen manage to escape and soon find the elephants and the third young handler in the jungle. The latter part of the story follows the three boys and the elephants as they deal with the realization that half their village has been brutally murdered while the other half is hidden somewhere in the hills, starting a guerilla defensive in hopes of standing up to the much stronger North Vietnamese. The internal conflict among the boys is abundant, with alliances shifting and suspicion constantly on the rise. Because Y'Tin's father worked for the American Special Forces, the other boys blame him for the trouble; Y'Tin withdraws to his elephant but she, too, is demonstrating a shift in alliance, as she keeps disappearing to spend time with a herd of wild elephants. The relationships are strongly crafted, most notably that of Y'Tin and his father, a man whom he trusts above all others, and the dialogue between the two of them is particularly loving. The strong characters set against the backdrop of volatile events makes for a riveting read, and fans of both history and relationship stories will find plenty to
take in. A brief author's note is included. -- BULLETIN, March 1, 2010

War has never been far from Y'Tin's life. He'd grown fond of the jovial American soldiers his father had helped over the years, and now, in 1973, the North Vietnamese army is menacing South Vietnam-even his isolated Montagnard village. Still, "[a]ll his father thought about was the war, and all Y'Tin thought about was elephants." While it's true that Y'Tin, a matter-of-fact 13-year-old with an easy confidence, obsesses about Lady, his hardworking elephant charge, she becomes only one of his many concerns. In a clear-as-a-bell third-person voice, with warmth and humor, Kadohata fully rounds out the character of Y'Tin-the way he loves and thinks, often measuring his own responses to the world with those of his ever-deliberating, never-wrong father. As he and Lady escape from the massacre that kills half the village, Y'Tin sees that between right and wrong are "a million shades of gray," like the elephant's hide, like the jungle in the dim light. A fascinating window into post-Vietnam War history and a wonderfully intimate character study. (author's note) (Historical fiction. 10-14) –Kirkus Reveiws

* Newbery Medalist Kadohata (Kira-Kira) shows that truth has as many shades of gray as an elephant in this emotionally taut survival story, set in war-torn South Vietnam. After American troops leave his village, Y'Tin, his family, and his neighbors are left to fend off their enemies themselves. But Y'Tin's mind isn't on war. It's on his pet elephant, Lady, and his dreams of opening an elephant-training school. His hopes vanish when North Vietnamese soldiers devastate his small village (Y'Tin helps dig a mass grave at one point). Y'Tin manages to escape into the jungle with a friend, where he reunites with Lady, but separated from family and friends, his thoughts grow dark. As the days go by, he becomes angrier and less trusting, wondering "if he would ever feel safe again or if safety was gone from his life forever." Illustrating the wisdom of Y'Tin's father's words—"The jungle changes a man"—Kadohata delves deep into the soul of her protagonist while making a faraway place and the stark consequences of war seem very near. Y'Tin's inner conflicts and changing perception of the world will haunt readers. Ages 10–up. (Jan.) –Publishers Weekly STARRED REVIEW
Atheneum Books for Young Readers, 9781416918837, 224pp.
Publication Date: January 5, 2010
About the Author
Cynthia Kadohata is the author of the Newbery Medal–winning book Kira-Kira, the National Book Award winner The Thing About Luck, the Jane Addams Peace Award and PEN America Award winner Weedflower, Cracker!, Outside Beauty, A Million Shades of Gray, Half a World Away, Checked, A Place to Belong, Saucy, and several critically acclaimed adult novels, including The Floating World. She lives with her dogs and hockey-playing son in California. Visit her online at CynthiaKadohata.com.
or
Not Currently Available for Direct Purchase