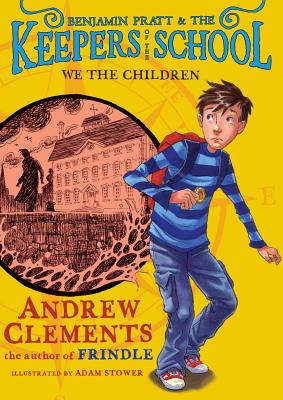 We the Children (Benjamin Pratt and the Keepers of the School #1)
Hardcover

* Individual store prices may vary.
Other Editions of This Title:
Digital Audiobook (4/5/2010)
Paperback (4/19/2011)
Description
Benjamin Pratt's school is about to become the site of a new amusement park. It sounds like a dream come true! But lately, Ben has been wonder if he's going to like an amusement park in the middle of his town—with all the buses and traffic and eight dollar slices of pizza. It's going to change everything. And, Ben is not so big on all the new changes in his life, like how his dad has moved out and started living in the marina on what used to be the "family" sailboat. Maybe it would be nice if the school just stayed as it is. He likes the school. Loves it, actually. It's over 200 years old and sits right on the harbor. The playground has ocean breezes and the classrooms have million dollar views…MILLION DOLLAR views. And after a chance—and final—run-in with the school janitor, Ben starts to discover that these MILLION DOLLAR views have a lot to do with the deal to sell the school property. But, as much as the town wants to believe it, the school does not belong to the local government. It belongs to the CHILDREN and these children have the right to defend it! Don't think Ben, his friend Jill (and the tag-along Robert) can ruin a multimillion dollar real estate deal? Then you don't know the history and the power of the Keepers of the School. A suspenseful six book series, book one, We the Children, starts the battle on land and on sea. It's a race to keep the school from turning into a ticket booth and these kids are about to discover just how threatening a little knowledge can be.
Praise For We the Children (Benjamin Pratt and the Keepers of the School #1)…
This first novel in the new Benjamin Pratt and the Keepers of the School series centers on young
Benjamin's efforts to save his historic elementary school from amusement-park developers. The school was founded in the late eighteenth century by an eccentric sea captain, Duncan Oaks. In their attempt to save the school, Benjamin and his friend Jill uncover a long string of clues and discover that the school's janitor is not as innocent as he appears. Jill and Benjamin have still not fit together all the missing pieces toward the end of the story, when Clements sends Benjamin on an exciting side trip to a sailing regatta, where he competes and saves a fellow racer. Several other youth novels feature kids facing off against greedy, nefarious developers. What sets this title apart is the skillful way that Clements conveys Benjamin's growing appreciation of his seaside hometown's landscape and history. Readers will look forward to finding out how the disparate clues come together in coming installments. — Todd Morning, BOOKLIST, March 15, 2010

Sixth-grader Ben Pratt is thrust into a mystery-adventure when his school's janitor shoves a gold coin in his hand, passing on the responsibility to save Oakes School from developers. Captain Oakes gave the school to the community back in 1783; its original building overlooks the Massachusetts town's harbor. But the land has been sold, and buildings will be razed to make way for a theme park. With his parents recently separated and new living arrangements—one week at home with mom, the next on dad's sailboat—Ben has had enough change. He and Jill Acton, a friend with brainpower and potential, embark on a campaign to stop the attack. Veteran Clements ably sets up his planned six-volume series with topical problems, convincing, likable characters and intriguing extra details. Ben is an enthusiastic sailor; this installment concludes with an exciting race and near-drowning. The author of Frindle (1996) knows his audience and sets his story in a world of cell phones, class assignments and afterschool rules that will seem familiar to his readers. They will welcome this new demonstration of kid power. Stower's art unseen. (Fiction. 8-12) -- KIRKUS, March 15, 2010, STAR

This suspenseful novel, which launches Clements's (No Talking) Benjamin Pratt & the Keepers of the School series, catapults Ben into a mystery surrounding his seaside school. Founded by a Revolutionary War–era sea captain, the school is slated to be demolished to make way for an amusement park. Just before he dies, the longtime custodian gives the sixth grader a gold coin imprinted with the founder's declaration that the school "belongs to the children" and cryptic instructions on how to "defend" it. Ben and his friend Jill set out to decode the message, a process that involves some intriguing questions and maneuverings. Clements has the makings of an action-lover's dream scenario: a school setting full of history and secrets, a tense kids-versus-adults dynamic, and a sailing race to boot. Some may be disappointed by how little is revealed, though, and the climactic race, while exciting, ends the story abruptly. Characteristically, Clements probes his hero's personal quandaries, as Ben deals with his parents' separation, his growing feelings for Jill, and the potential loss of his beloved school. PUBLISHERS WEEKLY, March 22, 2010

HORN BOOK

We the Children [Benjamin Pratt and the Keepers of the School]

by Andrew Clements, illus. by Adam Stower

Intermediate Atheneum 146 pp.

4/10 978-1-4169-3886-6 $14.99

The always popular Andrew Clements begins a new mystery series set on the New England coast. It starts with a bang, as the injured school custodian presses a mysterious coin on Ben, making him swear to keep it secret, and dies. Words on the coin lead Ben to take a second look at the imminent plan to tear down his old school to build an amusement park, and he begins working with a fellow student, Jill, to try to figure out the coin, and who the sneaky new custodian is. Ben and Jill find a clue that instructs them to follow five steps in order. This is very much a series entry, as the book ends before any of the clues have been followed. It's light stuff, but a side story featuring a sailing race and the backstory of Ben's newly separated parents give it more substance, and there's a lot of child appeal in a novel where kids are the appointed rescuers in a quest handed down through time. SUSAN DOVE LEMPKE

Sixth-grader Ben is racing off to class when he finds the janitor, Mr. Keane, in severe pain. The man gives him a gold coin from 1783 that has been passed down through the years by loyal janitors and can be traced to the first man hired by the founder of Captain Duncan Oakes School. It reads, "First and always/My school belongs to the children./Defend it." A few hours later, he is dead. The town council has sold the school to a big company to build a theme park, and there's something very fishy about the deal. With the words on the coin as his first clue, Ben studies the history of his school, which is 50 feet from the water's edge in a Massachusetts coastal town, and he convinces his friend Jill to help him explore it. Meanwhile, Ben is adjusting to his parents' separation and living at home with his Mom and on the sailboat with his dad. Expressive, dynamic full-page and spot illustrations rendered in pen and ink heighten the action. An exciting ending sequence features Ben participating in a sailboat race and becoming a reluctant hero. There are many questions to be answered in the next book. Good writing by an experienced author, likable characters, and a mystery to be solved make this a solid choice.–SLJ, May 2010
Atheneum Books for Young Readers, 9781416938866, 160pp.
Publication Date: April 6, 2010
About the Author
Andrew Clements (1949–2019) was the author of the enormously popular Frindle. More than 10 million copies of his books have been sold, and he was nominated for a multitude of state awards, including a Christopher Award and an Edgar Award. His popular works include About Average, Troublemaker, Extra Credit, Lost and Found, No Talking, Room One, Lunch Money, and more. He was also the author of the Benjamin Pratt & the Keepers of the School series. Find out more at AndrewClements.com.

Adam Stower has a rich imagination and loves fantasy and adventure stories. He studied illustration at the Norwich School of Art and Design and at the University of Brighton, and lives with his daughter in Brighton, England.
Book Videos
or
Not Currently Available for Direct Purchase