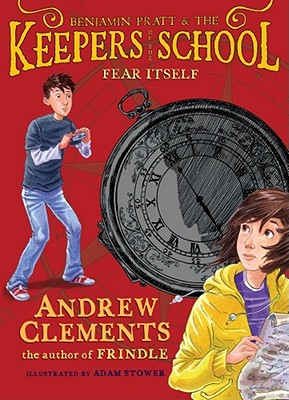 Fear Itself (Benjamin Pratt and the Keepers of the School #2) (Hardcover)
Atheneum Books for Young Readers, 9781416938873, 224pp.
Publication Date: January 4, 2011
* Individual store prices may vary.
Description
Time is ticking as the countdown to Ben Pratt's school's total demolition continues. Ben has been given a handful of clues that could help them save the school, but they are all written in maritime riddles. "After five bells sound, time to sit down." What the heck does that mean? It's hard to know where to begin when Ben and Jill don't even know what they are looking for. All Lyman, the snake posing as the school janitor, needs to know, though, is that they are looking, and that could mean the end of the 30-million-dollar development deal that pays his salary. (Which, by the way, is MUCH larger than what a typical janitor makes.) As Lyman lurks in the shadows—and sometimes not in the shadows—Ben and Jill have to add another to-do to their list of things to accomplish in the next twenty-one days: (1) Figure out the clues left by past Keepers of the School groups, (2) figure out how these clues will help them save the school, and (3) stay one step ahead of Lyman. That's the mission…which seems, at times, impossible.

The second book in this riveting and mysterious six-book series is as action-packed as the first one, culminating in a faceoff between Ben, Jill, and Lyman. "After five bells sound, time to sit down" makes for a good riddle, but Ben and Jill also knows when it's time to stand up…for Oakes School and for themselves.
About the Author
Andrew Clements (1949–2019) was the author of the enormously popular Frindle. More than 10 million copies of his books have been sold, and he was nominated for a multitude of state awards, including two Christopher Awards and an Edgar Award. His popular works include About Average, Troublemaker, Extra Credit, Lost and Found, No Talking, Room One, Lunch Money, and more. He was also the author of the Benjamin Pratt & the Keepers of the School series. Find out more at AndrewClements.com.

Adam Stower has a rich imagination and loves fantasy and adventure stories. He studied illustration at the Norwich School of Art and Design and at the University of Brighton, and lives with his daughter in Brighton, England.
Praise For Fear Itself (Benjamin Pratt and the Keepers of the School #2)…
Gr 3-6–Although this book is a satisfying read by itself, the story will make more sense to readers familiar with We the Children (S & S, 2010). Benjamin Pratt and his friend Jill are trying to find the clues that will keep their 200-year-old school from being torn down and replaced by a theme park. Ben goes to the funeral of Mr. Keane, the janitor who died in the first book, where he meets Tom Benton, who held the job before Mr. Keane. The janitor's widow gives Ben a large set of keys, and he and Jill solve the clue, "after five bells sound, time to sit down" and find a codicil from Duncan Oakes, founder of the school, that might change everything. The current janitor is stalking Ben and Jill and taunts them with the fact that in three weeks the building will be demolished. Expressive pen-and-ink illustrations add detail and excitement to the adventure, including the clues and coins found. Solid writing, likable characters, danger, a seaside setting, and now treasure will make readers eager for the third installment.–Debbie Hoskins, Grand Rapids Public Library, MI

- SLJ Sept 2010

Working frantically to save their historic school from the wrecking ball scheduled in three weeks, sixth graders Ben Pratt and Jill Acton find the first of five safeguards planted more than 200 years earlier, an ally and treasure that may also help their cause. The story opens immediately after Ben has saved his arch enemy's life, and readers will need to be familiar with We the Children (2010), the first in this planned six-volume series, to identify the characters and understand their relationships. Like that title, this is fast-paced and full of intriguing details ranging from clues leading to a hidden document and antique coins to the story of Horatio at the bridge and references to Jack London. Ben alternates between parents; in the first book he was living on his father's sailboat, so this week, he's home with his mother. Janitor Lyman continues to threaten, and even Jill seems nervous. The Massachusetts seaside setting takes a back seat to the increasing tension. Readers who've begun this well-written, modern kid-power mystery series will be glad to see this and eager for more. - KIRKUS, November 15, 2010