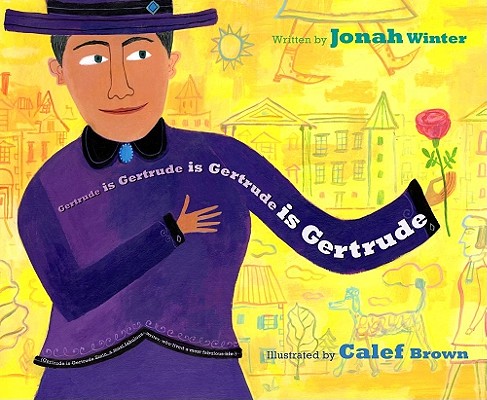 Gertrude is Gertrude is Gertrude is Gertrude (Hardcover)
Atheneum Books for Young Readers, 9781416940883, 40pp.
Publication Date: February 10, 2009
* Individual store prices may vary.
Description
Gertrude
is Gertrude
is Gertrude
is Gertrude.

And Alice is Alice.

And Gertrude and Alice are Gertrude and Alice.

And you are welcome to join them for tea. But beware, for there you will find a bear in a chair, just barely scary. And here is a beard with a man attached to it. And then, of course, some words might appear, uninvited , but delighted in spite of their lightbulbs. But, but, but, but - that doesn't make any sense! Yes!

In a story inspired by the oh-so-modern groundbreaking writing of Gertrude herself, not a lot makes sense. Even so, the oh-so-popular author Jonah Winter, and the ever-so-popular illustrator Calef Brown, and the most popular poodle of all time, Basket, invite you to enter the whimsical world of Gertrude Stein and Alice B. Toklas.
About the Author
Jonah Winter is the author of more than thirty celebrated nonfiction picture books including Diego, The Secret Project, and Oil, illustrated by Jeanette Winter; Jazz Age Josephine, illustrated by Marjorie Priceman; Sonia Sotomayor: A Judge Grows in the Bronx, illustrated by Edel Rodriguez; The Founding Fathers! illustrated by Barry Blitt; and Lillian's Right to Vote: A Celebration of the Voting Rights Act of 1965, illustrated by Shane W. Evans.

Calef Brown is the #1 New York Times bestselling author and illustrator of Flamingos on the Roof, Tippintown, Dutch Sneakers and Fleakeepers, and Polkabats and Octopus Slacks. He lives in Maine.
Praise For Gertrude is Gertrude is Gertrude is Gertrude…
"Gertrude is Gertrude is Gertrude is Gertrude puts the fun front and center, both in the lives of the artists it describes, and in its emulation of its titular writer's style." -- Bulletin of the Center for Children's Books

"'Thank you for this cow' the story ends but it is really just beginning because readers will want to go back to the words and the colors and the tea and Alice and Gertrude and having bright, sparkling fun with words and colors and tea." -- Kirkus Reviews

"Taking his title from Gertrude Stein's famous saying about a rose, Winter (Frida) crafts a Steinesque 'word portrait' of the modernist author." -- Publisher's Weekly