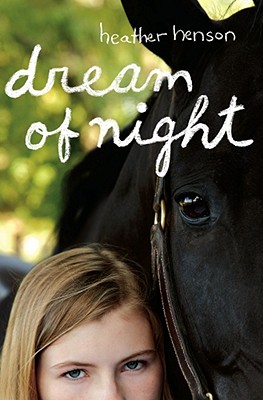 Dream of Night (Hardcover)
Atheneum Books for Young Readers, 9781416948995, 218pp.
Publication Date: May 4, 2010
* Individual store prices may vary.
Description
Untamable. Damaged. Angry. Once full of promise and life, now a fiery knot of resentment and detachment. This is the story of Dream of Night, an injured and abused racehorse. It's also the story of Shiloh, a sarcastic eleven-year-old foster child. By chance, Dream of Night and Shiloh both find themselves under the care of Jessalyn DiLima. Just in time--it's a last chance for them both. Jess fosters animals and kids like Dream of Night and Shiloh for a reason--she's a little broken, too. And as the three of them become an unlikely family, they recognize their similarities in order to heal their pasts--but not before one last tragedy threatens to take everything away.
Praise For Dream of Night…
Three lives and three story lines merge as readers get to know a former racehorse, a 12-year-old girl, and a middle-aged woman. Dream of Night was a successful Thoroughbred until an undetected injury led, over time, to horrific abuse and neglect. Shiloh and her mom suffered unspeakable domestic violence, landing Shiloh in increasingly ineffective foster homes. Jess has spent years working with rescued horses and foster kids, but thinks that perhaps she is too old now for either one. Night and Shiloh both end up at Jess's farm and are needy, angry, and incapable of trust. Eventually, cracks begin to appear in the walls that the two have erected, and a crisis cements their bond. Within each chapter, the third-person narration switches from character to character, with each portion labeled. The brief sections use few words to maximum potential, developing each character and focusing on believable behaviors. While accepting Night's line of thought occasionally requires a leap of faith, this is a touching read with a satisfying ending. Recommend it to kids who have heard about Dave Pelzer's A Child Called "It" (Health Communications, 1995) and to animal lovers or girls who read reluctantly.–SLJ, April 1, 2010



Once Dream of Night was a champion racehorse, but by the time Jess DiLima gets him he's nearly dead from starvation and pneumonia, and his thin hide is covered in scars. Twelve-year-old Shiloh is scarred, too, both from physical abuse and from the emotional withering of years in foster care. Jess doesn't feel up to the challenge of either one of them, but she knows that she may represent their last chance. Henson's story unfolds in a tight, third-person, present-tense narration that shifts its focus among the three principals: Jess, Shiloh and Night. Her novel, like her characters, shimmers with anger and hope. She doesn't pull her punches—the scenes and flashbacks of abuse are realistically graphic—but she also never lets the details overwhelm the narrative, always offering the possibility of redemption. The author understands, too, that victory is not necessarily a blue ribbon won or a family reunited—sometimes it's just the quiet triumph of a girl confidently brushing a horse in a stall. Another impressive book by the author of Here's How I See It—Here's How It Is (2009). -- KIRKUS, April 15, 2010