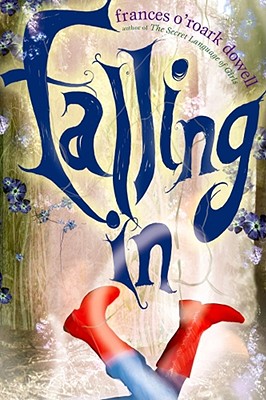 Falling in (Hardcover)
Atheneum Books, 9781416950325, 245pp.
Publication Date: March 2, 2010
* Individual store prices may vary.
or
Not Currently Available for Direct Purchase
Description
B z z z z z z z The buzzing sound? Do you hear that? There it is again. B z z z z z z z No? Well, I really shouldn't have asked. Most people can't hear it, anyway. But, if you could, you'd think it sounds like you're teetering on the edge of the universe. That's what Isabelle Bean thinks...and she's not that far from the truth. B z z z z z z z You really don't hear that? Well, it's actually not that great to have a buzzing in your ear. It's distracting for one thing. And when Isabelle starts listening to the buzz instead of, say, her boring teacher, strange things happen. She gets sent to the principal's office (that's not so strange), but then while awaiting her punishment, she tumbles into an adventure--into another world that's a little bit different, a little bit Hansel & Gretel-y, a little bit like a fairy tale, which would be great, but...did I mention that Isabelle is an unusual dresser? When she shows up in fairy-tale land wearing her favorite high, pointy boots, the fairy-tale people start thinking that Isabelle is a witch -- and not just any witch, but the witch From Edgar Award-winning author Frances O'Roark Dowell comes the unlikely story of Isabelle Bean--an ultimate misfit, an outsider extraordinaire, and not a witch.
Praise For Falling in…
Dowell's (Shooting the Moon) first fantasy novel features sixth-grader Isabelle Bean, an unconventional protagonist who prefers thrift stores to malls and demonstrates an "impressive talent for irritating teachers." Isabelle's adventure begins in the school nurse's office, where she discovers an entrance into another world and meets a group of children fleeing from a witch. As fate would have it, the "witch"—mistreated and misunderstood by villagers—turns out to be Isabelle's biological grandmother. Much of the novel focuses on the healing powers and sad history of Isabelle's grandmother and Isabelle's effort to set the record straight. Readers may be amused by the narrator's digressions, backtracking, direct addresses ("You want me to tell you where Isabelle is, don't you? You want me to spell it out for you, draw you a map, paint a picture. Well, I'm not going to do it"), and impish tone, though it can feel a bit forced. Perhaps too many facts are left to the imagination: how Isabelle has changed and what she has gained from her experiences remain questionable at the end of the book. Ages 8–12.
—Publishers Weekly (Mar.)



Feeling like a changeling in her own world, sixth-grader Isabelle Bean falls into another, where she meets her healer grandmother, Grete, and corrects a misunderstanding that had terrorized generations of children. Although it uses traditional tropes and the faintly medieval setting of much of children's fantasy, this perfectly paced story has enough realistic elements to appeal even to nonfantasy readers. The plot centers on Isabelle's efforts to convince the other world's children that her grandmother is not a wicked witch. This task is complicated but ultimately accomplished by Grete's accidental poisoning at the hands of a small boy. The storyteller's voice is evidenced by the opening line ("On the morning this story begins") and occasionally interrupts the narrative with explanation and rumination. The decidedly opinionated narrator's privileged stance lends a sense of directness and immediacy to the telling, and the adult perspective allows for more complex language and deeper understanding. Dreamy and distractible, Isabelle is an appealing protagonist whose newfound gift for hearing calls for help reflects how she has grown up enough to see beyond herself. Like Isabelle, her story has that "barely visible edge of otherworldliness" that gives it power. Kathleen Isaacs - Booklist STARRED REVIEW



Isabelle Bean has no friends since her classmates consider her weird and even scary. She prefers thrift shops to the mall and dresses in whatever she feels like at the moment. One day, sitting in class concentrating on a strange buzzing sound, she is sent to the principal's office for not paying attention. She opens the door to a supply closet and is plunged into a fairy-talelike world in an alternate universe. She encounters children traveling to the "camps" to avoid being eaten by the Witch of the Woods and meets Hen, and they set out on their own in the opposite direction. Arriving at a cozy cottage, the girls are welcomed by Grete, an elderly woman who uses plants to heal. Isabelle learns that Grete is her grandmother and that she may be the "witch" the people have been taught to fear. Armed with only her determination and intuitive nature, Isabelle marches off to the camps to dispel the rumor of the witch. It is here the plot thickens as Dowell offers twists, turns, and a tragic near-death. Throughout the book she addresses readers directly as though she is telling the story to them. Isabelle's adventures come to a satisfying conclusion as she "falls out" of her school closet a little wiser and maybe a bit more likely to make a friend, and she reminds readers to just believe that "the doors are out there. Don't be afraid to turn the knob."–SLJ, April 1, 2010



A master at capturing the emotional lives of modern kids in realistic fiction proves equally adept with fantasy. When sixth-grader Isabelle Bean, the kind of "girl who is as silent as a weed," falls through the floor of a supply closet into what is clearly a fantasy land, she arrives during "the witch's season," when all the children of the Five Villages hide in makeshift camps to avoid being eaten. Isabelle, however, thinks that a witch might be interesting, so she heads south instead of north, picking up the girl Hen, who is straggling behind her village's evacuation, along the way. Soon they bump into Grete, an old woman who lives alone in the woods and who takes them in, teaches them herbal lore and healing. Here, the beguiling crotchety intrusive narrator suggests readers might want a refund for the lack of excitement, but… The fledgling fantasist produces surprises, despair, reunions and hope, all with a deft, playful touch and the ability to deliver breathtakingly penetrating insights perfectly pitched for her audience. Dowell spreads her wings and soars. Kirkus, starred review
Advertisement