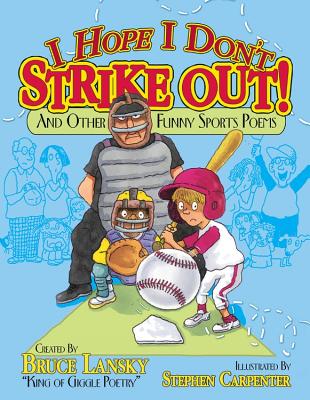 I Hope I Don't Strike Out
And Other Sports Poems (Giggle Poetry)
Hardcover

* Individual store prices may vary.
Description
I Hope I Don't Strike Out is the first major anthology of funny poems about sports. It was designed to motivate sports-loving boys and girls to read by focusing on the funny side of sports. It covers all major sports in which kids participate, including baseball, football, basketball, soccer, swimming, skiing, running, karate, golf, volleyball, and dodgeball. Kids will love poems that serve up "the inside scoop" on how catchers make batters take their eyes off the ball, how nervous batters hit fastballs they can't even see, blood-curdling cheers that cause opponents to run home to their mommies, what to expect your first day at karate school, what not to pack for a ski trip, and how to score the winning goal in a kindergarten soccer game. In all, 22 of the funniest sports poems ever published by Lansky and his all-star team of Giggle Poets are sure to have kids laughing while they sit on the bench, waiting for a starter to foul out.



iParenting Media Awards2008Excellent Product Winner: Poetry

USABookNews.com2008 FINALIST: Poetry: Anthologies

Teachers' Choice Awards (TCA)2009 Teachers' Choice Awards for the Family: Children's Books

WINNER in Learning Magazine Teachers' Choice Awards for the Family: Children's Books
Running Press Adult, 9781416951988, 32pp.
Publication Date: February 26, 2008
About the Author
Bruce Lansky has been crowned the "King of Giggle Poetry" by his elementary-school admirers. Lansky has edited 11 poetry anthologies and three silly songbook anthologies, and has written four collections of his own poetry. Altogether, his poetry and songbooks have sold over 3 million copies. Lansky created the popular GigglePoetry.com website for children and the PoetryTeachers.com website for teachers. He is a popular speaker on the school circuit, performing in more than 35 schools and teacher conferences each year. He lives in Minneapolis, Minnesota, when he's not visiting out-of-town schools and bookstores).

or
Not Currently Available for Direct Purchase