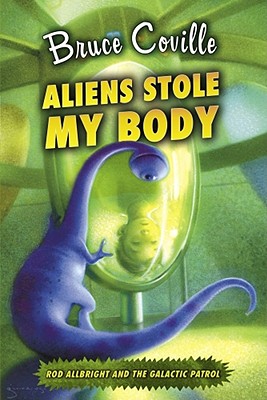 Aliens Stole My Body (Rod Allbright and the Galactic Patrol)
Paperback

* Individual store prices may vary.
Description
BRING BACK ROD'S BODY!

Rod Allbright has found his father -- but lost his own body! It's been stolen by BKR, the most fiendish villain in the galaxy, which leaves Rod sharing the body of a one-eyed, blue alien named Seymour.

Alas, when it comes time to go after BKR, Rod is forced to stay behind so that the little villain won't be able to get at the world-destroying secret locked in Rod's brain.

Stranded on an alien planet with only Madame Pong, Seymour, Snout, and his annoying cousin Elspeth for company, Rod fumes at being left behind. Little does he know he's about to be drawn into a web of alien plots that will test his courage to the utmost -- and ultimately bring him face-to-face with BKR.
Aladdin, 9781416953593, 240pp.
Publication Date: February 19, 2008
About the Author
Bruce Coville has published more than one hundred books, which have sold more than sixteen million copies. Among his most popular titles are My Teacher Is an Alien, Into the Land of the Unicorns, and The Monster's Ring. Bruce also founded Full Cast Audio, a company that creates recordings of the best in children's and young adult literature. He lives in Syracuse, New York, with his wife, Katherine. Visit him at BruceCoville.com.

Katherine Coville is an artist, a sculptor, and a dollmaker who specializes in highly detailed images of creatures never before seen in this world. She has illustrated several books written by her husband, Bruce Coville, including Goblins in the Castle, Aliens Ate My Homework, and the Space Brat series. Bruce and Katherine live in Syracuse, New York, with a varying assortment of pets and children.