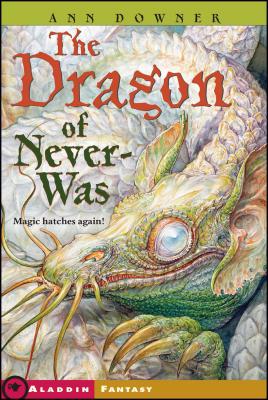 The Dragon of Never-Was (Aladdin Fantasy) (Paperback)
Atheneum Books for Young Readers, 9781416954538, 305pp.
Publication Date: February 1, 2008
* Individual store prices may vary.
Description
Ever since she was caught up in a magical whirlwind of dragons, spells, and wizards, Theodora Oglethorpe has been doing her best to put the Events of Last Summer behind her and go back to her life as a normal twelve-year-old girl. But no matter how hard she tries to forget about magic, it always seems to find her -- even when she's on vacation! When Theodora's biologist-dad is called to the Scottish island of Scornsay to study a scale believed to be from a previously unknown species, Theodora is thrilled to be invited along. A nice vacation is just what she needs to forget all about wyverns, demons, and magical tunnels through time.
But as soon as Theodora sees the scale, she knows it's not from a fish, a reptile, or anything known to science. It's from a dragon, and as Theodora knows all too well, wherever there are dragons, there are wizards, and then there's sure to be trouble. Before she can solve the mystery of the dragon's scale, Theodora will have to confront her own magical heritage and make a perilous journey to the wizard's limbo known as Never-Was.
The Dragon of Never-Was, the sequel to Hatching Magic, is just as funny, witty, and richly imagined as its predecessor. Filled with eccentric characters, crafty dragons, dazzling spells, good friends, and a feisty heroine that readers will root for, this is a middle-grade fantasy to be savored.
Praise For The Dragon of Never-Was (Aladdin Fantasy)…
"The Dragon of Never-Was is a whimsical, mysterious fantasy with some delightful twists on magic that I've never seen before."
-- Hilari Bell, author of the Farsala Trilogy



"This is a charming fantasy that will appeal to fans of Diana Wynne Jones."
-- School Library Journal



"Much more satisfying than any commercially packaged fantasy."
-- Horn Book



"Chuckles abound in this light, old-world-meets-new-world fantasy."
-- New York Times Book Review