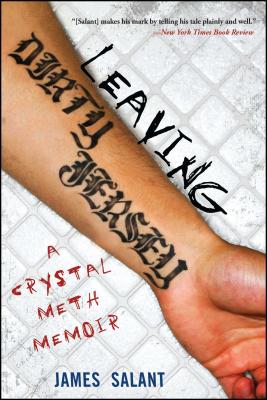 Leaving Dirty Jersey
A Crystal Meth Memoir
Paperback

* Individual store prices may vary.
Other Editions of This Title:
Paperback (1/1/2008)
Description
With his nickname, Dirty Jersey, tattooed on the inside of his left forearm, James Salant wanted everyone to know he was a tough guy.

At the age of eighteen, after one too many run-ins with the cops for drug possession, he left his upper-middle-class home in Princeton, New Jersey, for a stint at a rehab facility in Riverside, California. Instead of getting clean, he spent his year there shooting crystal meth and living as a petty criminal among not-so-petty ones until a near psychotic episode (among other things) convinced him to clean up.

In stark prose infused with heartbreaking insight, wicked humor, and complete veracity, Salant provides graphic descriptions of life on crystal meth -- the incredible sex drive, the paranoia, the cravings. He details the slang, the scams, and the psychoses, and weaves them into a narrative that is breathtakingly honest and authentic. Salant grapples with his attraction to the thuggish life, eschewing easy answers -- his parents, both therapists, were loving and supportive, and his family's subtle dysfunctions typical of almost any American family.

Exploring the allure and effects of the least understood drug of our time, Leaving Dirty Jersey is that rarity among memoirs -- a compulsively readable, superbly told story that is shocking precisely because it could happen to almost anyone.
Praise For Leaving Dirty Jersey: A Crystal Meth Memoir…
"This book stands out. The atmosphere and the detail with which the bit players are brought to life recall William S. Burroughs's classic Junky." -- Library Journal

"Normally I hate to tell anyone what to do, or what to think, or read. But I honestly believe every parent should read this book. And every teenager on the verge of a drug trip should read it. And everyone else, too. It's that good, that important." -- Dava Sobel, author of Longitude

"Salant makes his mark by telling his tale plainly and well." -- New York Times Book Review

"Salant's story offers an unrelentingly bleak account of one man's encounter with America's crystal meth culture." -- Publishers Weekly

"If prose were a mind-altering substance, James Salant would be your neighbourhood pusher. Lord knows, the man will make an addict of you." -- Koren Zailckas, New York Times bestselling author of Smashed: Story of a Drunken Girlhood

"Salant gives us a searing, sordid account of his 19th year, spent shooting and smoking meth and heroin in California...he nails the hellish tedium and despair of the addict. His memoir is a dirty bomb lobbed from the trenches of crank addiction." -- Salon.com
Gallery Books, 9781416955115, 352pp.
Publication Date: April 22, 2008
About the Author
James Salant, twenty-three, spent a good deal of his adolescence and adult life on drugs. After graduating from high school in Princeton, New Jersey, he spent the year documented in this book in California before returning to New Jersey for a six-month court-mandated rehabilitation program. He has been clean ever since.