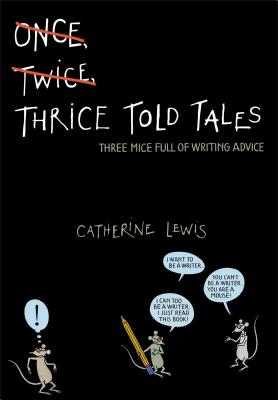 Thrice Told Tales
Three Mice Full of Writing Advice
Hardcover

* Individual store prices may vary.
Description
Three Blind Mice. Three Blind Mice. See how they run? No. See how they can make all sorts of useful literary elements colorful and easy to understand!

Can one nursery rhyme explain the secrets of the universe? Well, not exactly—but it can help you understand the difference between bildungsroman, epigram, and epistolary.

From the absurd to the wish-I'd-thought-of-that clever, writing professor Catherine Lewis blends Mother Goose with Edward Gorey and Queneau, and the result is learning a whole lot more about three not so helpless mice, and how to fine tune your own writing, bildungsroman and all.

If your writing is your air, this is your laughing gas.*

*That's a metaphor, friends.
Praise For Thrice Told Tales: Three Mice Full of Writing Advice…
* "From allegory to verisimilitude, the three blind mice demonstrate a wealth of literary terms.
Named Pee Wee, Oscar and Mary, the famous mice start with their basic "Story" and ring the changes on it using a variety of literary tools.... Clever line drawings by Swarte enliven every page, and Lewis' own comments add graceful explanation.... Treatment of each topic is brief, though artful, but an exhaustive glossary—intelligent, witty, thoughtfully referential and written in a voice as distinctive as William Strunk's—provides further elucidation and heft (it also doubles as an index).
A sparkling celebration of the craft of writing that easily rises to the level of belles lettres itself."
— Kirkus Reviews, July 15, 2013, *STARRED REVIEW

* "Lewis makes wonderfully clever use of the "Three Blind Mice" nursery rhyme to illustrate nearly 100 elements of writing and literature—plot, dialogue, flashbacks, coincidence, and more. The concept of sentimentality is framed as a publisher's rejection letter, picking apart a mouse's mawkish manuscript; "Wow, that's sharp!" remarks another mouse, gingerly touching a kitchen knife on a page about foreshadowing. Lewis expands on each term in brief "Snip of the Tale" summaries and an extensive appendix. "It's not just the idea, but the author's way of putting it," she writes of style, following samples from the likes of Dickens Mouse and Hemingway Mouse ("Three mice. Woman with knife. No tails"). Swarte's clean-line b&w cartoons ramp up the energy and comedy. For writers of any age, it's a very funny and useful resource."
— Publishers Weekly, July 8, 2013, *STARRED REVIEW
Atheneum Books for Young Readers, 9781416957843, 144pp.
Publication Date: August 27, 2013
About the Author
Catherine Lewis worked as a emergency medical technician and police officer while honing her writing skills. Now she is a professor of creative writing at Purchase College and lives in New York City. Her first novel, Dry Fire, was for adults; Postcards to Father Abraham was her critically acclaimed debut young adult novel.
or
Not Currently Available for Direct Purchase