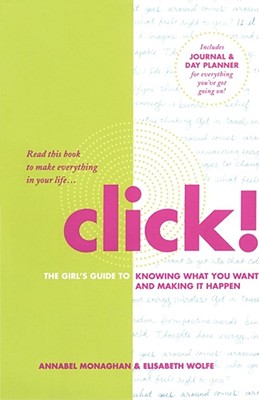 Click!
The Girl's Guide to Knowing What You Want and Making It Happen
Paperback

* Individual store prices may vary.
Description
MAKE THE TEAM. MAKE STRAIGHT A'S. MAKE THE A-LIST.

MAKE IT HAPPEN!

Let's face it: You know what you want, but somehow you're just not getting it. What you may not realize is that you control your life--and Click! shows you how.

Based on the idea that what you give is what you get, Click! explains how to figure out what you really want; how to focus on your goals using positive energy; and, ultimately, how to achieve those goals.

By creating more positive energy every day, you can stop waiting for good things to happen and make them happen. In fact, you're about to click send on a whole new kind of E-vite to the universe--and finally get the mail you've been hoping for!
Simon Pulse, 9781416957904, 240pp.
Publication Date: November 27, 2007
About the Author
Annabel (Schwedes) Monaghan spent her teenage years almost
making it happen. Annabel's claim to fame is being dumped by the cutest guy
in Los Angeles--twice! She had dinner with Madonna once. Okay, not at the
same table, but at the same restaurant. A former investment banker, she's
much happier writing.

Elisabeth (Koller) Wolfe was the only cheerleader in Richmond, Virginia
to be kicked off the squad for chronic lateness due to humidity hair havoc.
Thankfully, Elisabeth refocused her energy and moved to New York City, where
she became an attorney, started a production company, and won an Emmy Award.