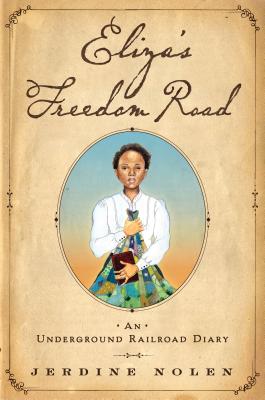 Eliza's Freedom Road
An Underground Railroad Diary
Hardcover

* Individual store prices may vary.
Other Editions of This Title:
Paperback (2/14/2017)
Description
Christopher Award–winning author Jerdine Nolen imagines a young woman's journey from slavery to freedom in this intimate and powerful novel that was named an ALA/YALSA Best Fiction for Young Adults nominee.

It is 1854 in Alexandria, Virginia. Eliza's mother has been sold away and Eliza is left as a slave on a Virginia farm. It is Abbey, the cook, who looks after Eliza, when she isn't taking care of the Mistress. Eliza has only the quilt her mother left her and the stories her mother told to keep her mother's memory close.

When the Mistress's health begins to fail and Eliza overhears the Master talk of the Slave sale auction and of Eliza being traded, she takes to the night. She follows the path and the words of the farmhand Old Joe: "Travel the night. Sleep the day…Go east. Keep your back to the setting of the sun. Come to the safe house with a candlelight in the window…That gal, Harriet, she'll take you."

All the while, Eliza recites the stories her mother taught her as she travels along her freedom road from Mary's Land to Pennsylvania to Freedom's Gate in St. Catharines, Canada, where she finds not only her freedom but also more than she could have hoped for.
Praise For Eliza's Freedom Road: An Underground Railroad Diary…
"A story of hope, determination, and the triumph of the human spirit."—Alma Powell, wife of former Secretary of State Colin Powell

"Like the young slave girl who watches a cook 'stirring tears into…stew," Nolen stirs Eliza's sad and frightening diary into a rich, empowering story. There's enough history here to make this required reading, but the urgency of Eliza's voice makes this trip back in time a compelling page turner brimming with authentic details. Jerdine Nolen truly brings Eliza to life and puts you right on the road north with her...the road to freedom."—Pat Cummings

"The best stories take us on a journey, make us happy to have gone along for the ride, and leave us a bit saddened to have reached the end. This is such a story."—Nikki Grimes

"This is not a book for yesterday but rather for tomorrow. I'm so glad Jerdine Nolen had the imagination and courage to write this. Read it now to your children so that they will read it to your grandchildren so that it will be read on and on. History and imagination is how we survive."—Nikki Giovanni, poet

Eleven-year-old Eliza keeps a journal of her life as a slave on a farm in Alexandria, Va., in 1845. Ever since Eliza's mother was sold at a slave auction, Eliza has gotten by with the support of another slave woman, Abbey, and by holding close to her heart the stories and the story quilt her mother passed down to her. When Eliza discovers that she, too, will be sold upon her sick mistress' death, she decides to risk everything on a journey to freedom on the Underground Railroad with Harriet Tubman. As she makes her harrowing journey, Eliza tells her mother's stories, each one keyed to a square in the quilt and just right for the situation at hand. In this well-crafted tale, Nolen reveals some of the traumas and tragedies of slavery but keeps her focus on those things that allow Eliza the power to escape: literacy, her mother's legacy, a bit of luck and a great deal of courage. - KIRKUS, December 15, 2010

NOLEN, Jerdine. Eliza's Freedom Road: An Underground Railroad Diary. 160p. map. bibliog. Web sites. S & S/Paula Wiseman Bks. 2011. Tr $14.99. ISBN 978-1-4169-5814-7; ebook $9.99. ISBN 978-1-4424-1723-6. LC number unavailable.
Gr 4-7–As she turns 12, Eliza is a Virginia house slave, increasingly responsible for the care of the ailing mistress who taught her to read and write. Since Sir sold her mother a year earlier, Eliza has only motherly cook Abbey, the discarded diary Abbey encourages her to write in, and a story quilt her mother made. When the mistress takes Eliza along to stay with family in Maryland, Eliza learns of the Underground Railroad from fellow slaves and a found stack of newspapers containing the serialized Uncle Tom's Cabin. With the help of a shadowy Harriet Tubman herself, Eliza escapes to freedom in Ontario, where by chance she reunites with her mother. Presented as the girl's diary published later by the adult Elizabeth, the narrative suffers from thin characterizations and awkward pacing resulting from sometimes forced pauses to record her mother's stories. –Riva Pollard, Prospect Sierra Middle School, El Cerrito, CA

- SLJ February 2011
Simon & Schuster/Paula Wiseman Books, 9781416958147, 160pp.
Publication Date: January 4, 2011
About the Author
Jerdine Nolen is the beloved author of many award-winning books, including Big Jabe; Thunder Rose, a Coretta Scott King Illustrator Honor Book; and Hewitt Anderson's Great Big Life, a Bank Street Best Book of the Year, all illustrated by Kadir Nelson. She is also the author of Eliza's Freedom Road, illustrated by Shadra Strickland, which was an ALA/YALSA Best Fiction Nominee for Young Adults; Raising Dragons, illustrated by Elise Primavera, which received the Christopher Award; and Harvey Potter's Balloon Farm, illustrated by Mark Buehner, which was made into a movie by the same name. Her other books include Calico Girl, a Kirkus Reviews Best Book of the Year, and Irene's Wish, illustrated by A.G. Ford, which Kirkus Reviews called "delightful and memorable" in a starred review. Ms. Nolen is an educator and lives in Ellicott City, Maryland.

Shadra Strickland studied, design, writing, and illustration at Syracuse University and later went on to complete her MFA at the School of Visual Arts in New York City. She won the Ezra Jack Keats Award and the Coretta Scott King/John Steptoe Award for New Talent in 2009 for her work in her first picture book, Bird, written by Zetta Elliott. Strickland co-illustrated Our Children Can Soar, winner of a 2010 NAACP Image Award. She teaches illustration at Maryland Institute College of Art in Baltimore, Maryland. Visit her online at ShadraStrickland.com.
or
Not Currently Available for Direct Purchase