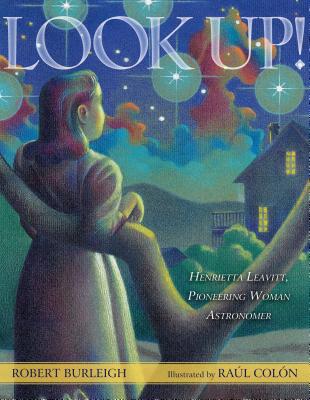 Look Up! (Hardcover)
Henrietta Leavitt, Pioneering Woman Astronomer
Simon & Schuster/Paula Wiseman Books, 9781416958192, 32pp.
Publication Date: February 19, 2013
* Individual store prices may vary.
Description
Henrietta Levitt was the first person to discover the scientific importance of a star's brightness—so why has no one heard of her? Learn all about a female pioneer of astronomy in this picture book biography.

Henrietta Swan Leavitt was born on July 4, 1868, and she changed the course of astronomy when she was just twenty-five years old. Henrietta spent years measuring star positions and sizes from photographs taken by the telescope at the Harvard College Observatory, where she worked. After Henrietta observed that certain stars had a fixed pattern to their changes, her discovery made it possible for astronomers to measure greater and greater distances—leading to our present understanding of the vast size of the universe.

An astronomer of her time called Henrietta Leavitt "one of the most important women ever to touch astronomy," and another close associate said she had the "best mind at the Harvard Observatory." Henrietta Leaveitt's story will inspire young women and aspiring scientists of all kinds and includes additional information about the solar system and astronomy.
About the Author
Robert Burleigh is the award-winning author of many books for children, including The Adventures of Mark Twain by Huckleberry Finn, illustrated by Barry Blitt; Night Flight, illustrated by Wendell Minor; Black Whiteness, illustrated by Walter Lyon Krudop; and Sylvia's Bookshop, illustrated by Katy Wu. His many other books include Hoops; Stealing Home; and Clang! Clang! Beep! Beep! He lives in Michigan.

Raúl Colón is the award-winning illustrator of many picture books, including Draw! an ALA Notable Book and recipient of the International Latino Book Award; Imagine! an ALA Notable Book, a New York Public Library Best Book for Kids, and a Bookpage Best Book; Susanna Reich's José! Born to Dance; Angela's Christmas by Frank McCourt; and Jill Biden's Don't Forget, God Bless Our Troops. Mr. Colón lived in Puerto Rico as a young boy and now resides in New City, New York, with his family.
Praise For Look Up!: Henrietta Leavitt, Pioneering Woman Astronomer…
Burleigh (George Bellows: Painter with a Punch!) investigates a woman astronomer who made a significant discovery in the 1900s when most women in her field "were human 'computers.' Their job was to record. And measure. And calculate. The women were expected to 'work, not think.' " Henrietta Leavitt didn't comply. Working at the Harvard College Observatory, she closely observed photographs of stars and uncovered a way to measure their true brightness, paving the way for others to measure even greater distances to the stars. Burleigh's narrative is simultaneously succinct, descriptive, and appealing: "When she closed her eyes, she could still see the star dots, dancing across the inside of her eyelids." Working in his familiar warm, glowing style, Colón (Annie and Helen) uses colored pencils and watercolors to create feathery-textured illustrations. Some images of Leavitt at work are rendered in muted beiges and greens, which make the night sky scenes shine all the brighter with their vivid royal blues and brilliant points of white light. An afterword about Leavitt and her discovery, glossary, bibliography, and other resources round out this attractive picture-book biography. Ages 4–8.
— Publishers Weekly

Burleigh introduces Henrietta Leavitt, a nineteenth-century woman determined to study astronomy at a time when "almost all astronomy teachers and students were men." Although she graduated from college and secured a job in an observatory, Leavitt was confined to working with a group of other women doing calculations of star positions in photographs taken by male colleagues. Careful observations, however, led Leavitt to discover minute changes in the apparent brightness of certain stars over time, which in turn led to methods of determining how far a star is from Earth. This is a useful overview of a lesser-known scientific contributor, and Burleigh as usual writes with smooth clarity. ... A collection of end matter includes quotes about the stars, brief notes about Leavitt's life and discoveries and about other early female astronomers, a glossary, and a compact list of websites and titles for more exploration.
— Bulletin of the Center for Children's Books

When Henrietta Leavitt graduated from Radcliffe College in 1892, women were not seen as potential
scientists. Still, she accepted a rather tedious job measuring the positions and sizes of stars in images
photographed using the Harvard College Observatory telescope. Besides measuring and note-taking, she
analyzed the records on certain stars that appeared to blink on and off. Her discovery that the time between
blinks indicated both the star's brightness and its distance from Earth led to the realization that the
universe was much larger than previously thought. Focusing on the life of the mind, the text is
contemplative and the illustrations are understated. In childhood, Leavitt is shown gazing at the night sky;
as an adult, her most active endeavor is a sedate walk. Still, the writing celebrates her achievement, and the
lovely artwork, set outdoors at night or indoors by day, includes yellow, tan, and white elements that are
luminous within the dimly lit scenes. A worthy picture book with informative back matter that will help
children understand Leavitt's challenging times as well as her achievement.
— Booklist

BURLEIGH, Robert. Look Up!: The Story of the First Woman Astronomer. illus. by Raúl Colón. 32p. bibliog. further reading. glossary. websites. S & S/Paula Wiseman Bks. Feb. 2013. Tr $16.99. ISBN 978-1-4169-5819-2; ebook $12.99. ISBN 978-1-4424-81107.

Gr 2-4–Scientific biographers face an unenviable challenge: How does one convey the excitement and impact of an individual's discovery when all but a tiny minority of the audience know nothing about the subject's field of study? In writing about Henrietta Leavitt, a pioneering female astronomer whose contributions revolutionized methods for measuring large distances in space, Burleigh approaches the problem with exclamation points. He drops in on Leavitt from inquisitive youth to "human computer" calculating data in a male-dominated lab and takes several carefully worded pages to outline the basics of her remarkable discovery. His success in delivering the science with clarity and brevity deserves admiration. But barring prior interest in the night sky, readers may find the punctuation–and sporadic third-person questions–attempts to manufacture passion and curiosity not entirely engendered by a narrative that reveals little about the subject beyond her most influential work. The textures and geometric composition of Colón's distinctive colored pencil and watercolor illustrations radiate with a diverse palette that encompasses warm, neutral interiors and fresh, vivid celestial views. The full-page scenes and star-filled spots, though awkwardly dispersed throughout the text, evoke the thrilling mystery and beauty of astronomy. Back matter includes an afterword that fills in biographical details, such as dates and places, not mentioned in the main text.–Robbin E. Friedman, Chappaqua Library, NY
— School Library Journal