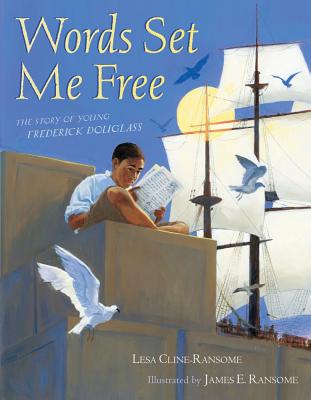 Words Set Me Free
The Story of Young Frederick Douglass
Hardcover

* Individual store prices may vary.
Description
The inspirational, true story of how Frederick Douglass found his way to freedom one word at a time.

This picture book biography chronicles the youth of Frederick Douglass, one of the most prominent African American figures in American history. Douglass spent his life advocating for the equality of all, and it was through reading that he was able to stand up for himself and others. Award-winning husband-wife team Lesa Cline-Ransome and James E. Ransome present a moving and captivating look at the young life of the inspirational man who said, "I would unite with anybody to do right and with nobody to do wrong."
Praise For Words Set Me Free: The Story of Young Frederick Douglass…
Words Set Me Free: The Story of Young Frederick Douglass
Lesa Cline Ransome, illus. by James E. Ransome. S&S/Wiseman, $16.99 (32p) ISBN 978-1-4169-5903-8

Drawing from Narrative of the Life of Frederick Douglass, the Ransomes (Before There Was Mozart) create a powerful biographical account of the anti-slavery crusader, writer, and orator's early life. Writing from Douglass's first-person perspective, Lesa Cline Ransome plainly relays the inhuman treatment of plantation slaves—"even the animals were rested in the heat of the afternoon sun, and they were never whipped bloody for being too tired or too sick or too slow"—and expresses how learning to read was a catalyst for Douglass's liberation. "I bought my first newspaper and learned new words—liberty, justice, and freedom.... These were the words my master would never want me to see." Ransome's acrylic and oil paintings combine striking naturalism with a palette of inky greens and blues; after Douglass uses his writing skills to forge a letter from his master releasing him, a final spread shows him looking boldly toward the North Star. Though an author's note explains that Douglass did not successfully escape that night (but did three years later), the story concludes with a sense of hope and determination. Ages 5–9.

--Publishers Weekly, November 28, 2011, *STARRED REVIEW

Frederick Bailey, who would later change his surname to Douglass, relates his early years, from first vague memories of his mother, who walked through the night to visit her sleeping son on a neighboring plantation; through his childhood, with his service leased to the Auld family of Baltimore; to his first attempt to make an escape from Talbot County, Maryland. The narration is dignified and tightly focused on the way learning to read both inspired and enabled young Frederick to plan for a life of freedom in the North. The depiction of the risk involved for a slave to achieve literacy is particularly well handled for a picture-book audience. Tales of cruel punishment for slaves who could read distract Frederick as Mrs. Auld teaches him his letters; he later uses religious services as a cover for passing his skill on to fellow slaves. This chapter in Douglass' story concludes with his forgery of a pass, written "in a firm and steady hand," which would allow him to "walk right out of Talbot County and into freedom up north." James Ransome's oil and acrylic paintings underscore young Frederick's determination and independent spirit, and their interplay with the text leaves readers with the strong impression that, once he had mastered the written word, Frederick's labors in town and fields were only going to be unfortunate layovers on his unstoppable journey to freedom. A concluding note explains that the forged-pass plan never came off, and it would be several more years before Douglass escaped to New York. However, even children unacquainted with Douglass the abolitionist will somehow sense that nothing is going to keep young Frederick Bailey in bondage. A brief timeline and list of sources are included.

--BCCB, February 2012
— --BCCB, February 2012

Words Set Me Free: The Story of Young Frederick Douglass

By Lesa Cline-Ransome and illustrated by James E. Ransome

(Paula Wiseman; ISBN 9781416959038; January 2012; Spring catalog p. 2)

The author and illustrator, a husband-and-wife team who collaborated previously on "Satchel Paige," base their biography of young Douglass on his "Narrative of the Life of Frederick Douglass." Using the first person, they describe Douglass's arduous early life as the spurned son of his master, forced to live apart from his slave mother. Visceral, intimate and plainly told, this story is sure to move young children, and also motivate them to read more.

--New York Times Book Review, February 12, 2012

"This talented team has created a concise, accessible, beautifully illustrated book based on Douglass's Narrative of the Life of Frederick Douglass. Rich acrylic and oil paintings depict plantation life (poorly clothed slave children kneeling before troughs, devouring cornmeal mush like livestock) and the strong emotions of the people (a young Frederick being transported with hands tied behind his back, lest he escape). This handsome volume is recommended for slightly older audiences than William Miller and Cedric Lucas's Frederick Douglass: The Last Day of Slavery (Lee & Low, 1995)."--School Library Journal, January 2012 *STARRED REVIEW
Simon & Schuster/Paula Wiseman Books, 9781416959038, 32pp.
Publication Date: January 4, 2011
About the Author
Lesa Cline-Ransome is the author of many award-winning and critically acclaimed nonfiction books for young readers, including Game Changers: The Story of Venus and Serena Williams; My Story, My Dance: Robert Battle's Journey to Alvin Ailey; and Before She Was Harriet. She is also the author of the novel Finding Langston, which received a Coretta Scott King Honor Award and five starred reviews. She lives in the Hudson Valley region of New York. Learn more at LesaClineRansome.com.

James E. Ransome's highly acclaimed illustrations for Before She Was Harriet received the 2018 Coretta Scott King Illustrator Honor. His other award-winning titles include the Coretta Scott King winner The Creation; Coretta Scott King Honor Book Uncle Jed's Barbershop; Sweet Clara and the Freedom Quilt; and Let My People Go, winner of the NAACP Image Award. He frequently collaborates with his wife, author Lesa Cline-Ransome. One of their recent titles is Game Changers: The Story of Venus and Serena Williams, which received four starred reviews and was an ALA Notable Children's Book. James is a professor and coordinator of the MFA Illustration Graduate Program at Syracuse University. He lives in New York's Hudson River Valley region with his family. Visit James at JamesRansome.com.