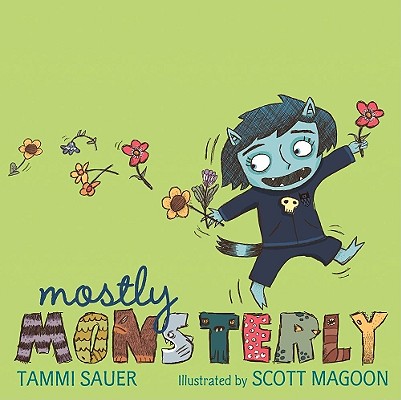 Mostly Monsterly (Hardcover)
Simon & Schuster/Paula Wiseman Books, 9781416961109, 40pp.
Publication Date: August 31, 2010
* Individual store prices may vary.
Description
Bernadette might seem like an ordinary monster, but sometimes she likes to do some very unmonsterlike things, like pick flowers. And pet kittens. And bake. When the time comes for Bernadette to go to Monster Academy, she's just a teensy bit nervous. Her classmates just don't understand her. They'd rather uproot trees than sing friendship songs. And they prefer fried snail goo to Bernadette's homemade cupcakes with sprinkles. Can Bernadette find a way to make friends at school and still be herself?
Praise For Mostly Monsterly…
From Ferdinand the Bull to the heroic mouse Despereaux, children's books focus to good effect on an

individual whose appearance seems at odds with his or her nature. Bernadette is one of those creatures: a fierce-looking little monster, complete with turquoise skin, fangs, claws, and pointy ears. "On the outside," the text begins, "Bernadette was mostly monsterly. She lurched. She growled. She caused mayhem of all kinds." The next spread reveals her dark secret: she also liked to pick flowers, pet kittens, and bake. The rest of the story follows Bernadette at Monster Academy, where she first tries to fit in and then manages to steer the group in her direction. For her crowning achievement, she gets her fellow young monsters to wreak havoc on an arts-and-crafts project. Magoon's digital illustrations are the highlight of this book—Bernadette's colorful classmates feature all sorts of appealing extras, like multiple eyes, horns, and feet. A green one even has four heads, and they're all smiling by the end. - BOOKLIST, July 1, 2010

"The writing reveals just enough, allowing the artwork to fill in the rest of the story. Magoon's whimsical cartoon illustrations featuring rough lines are reminiscent of those in Mo Willems's Leonardo, the Terrible Monster (Hyperion, 2005). This artistic style proves effective in conveying the look of monsters without the frightening attributes. In fact, the art complements humorous tone of the story, and the interplay of text and illustration is such that the book comes across as the product of one mind instead of two. A fun and delightful read for all children who have both a monsterly and a kind side."--SCHOOL LIBRARY JOURNAL, August 2010

"The monsters are an inventively designed crew, with a generous and Halloween-friendly helping of horns, protruding pointy teeth, and extra eyes...audiences of little monsters will relish the opportunity to join in on the lurching and grossing out. --The Bulletin of the Center for Children's Books, Sept. 2010

"Sauer's turnabout story of a square peg trying to fit into a round hole isn't particularly new, but her telling, with just the right amount of repetition and sophisticated vocabulary planted in simple sentences, is winning. Magoon's monster-hued cartoons pay a little homage to Sendak but also revel in such details as prep-school uniforms and a Monster Moves Class with yoga mats and monster-themed hydration bottles—and Bernadette's a fanged, horned charmer." - KIRKUS