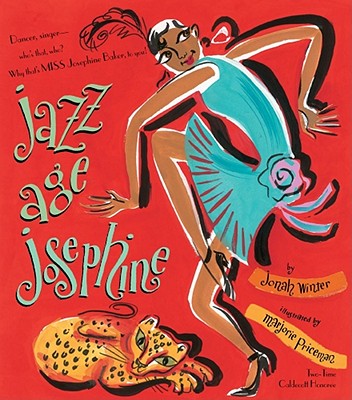 Jazz Age Josephine (Hardcover)
Dancer, singer--who's that, who? Why, that's MISS Josephine Baker, to you!
Atheneum Books for Young Readers, 9781416961239, 40pp.
Publication Date: January 3, 2012
* Individual store prices may vary.
Description
A picture book biography that will inspire readers to dance to their own beats!

Singer, dancer, actress, and independent dame, Josephine Baker felt life was a performance. She lived by her own rules and helped to shake up the status quo with wild costumes and a you-can't-tell-me-no attitude that made her famous. She even had a pet leopard in Paris!

From bestselling children's biographer Jonah Winter and two-time Caldecott Honoree Marjorie Priceman comes a story of a woman the stage could barely contain. Rising from a poor, segregated upbringing, Josephine Baker was able to break through racial barriers with her own sense of flair and astonishing dance abilities. She was a pillar of steel with a heart of gold—all wrapped up in feathers, sequins, and an infectious rhythm.
About the Author
Jonah Winter is the author of more than thirty celebrated nonfiction picture books including Diego, The Secret Project, and Oil, illustrated by Jeanette Winter; Jazz Age Josephine, illustrated by Marjorie Priceman; Sonia Sotomayor: A Judge Grows in the Bronx, illustrated by Edel Rodriguez; The Founding Fathers! illustrated by Barry Blitt; and Lillian's Right to Vote: A Celebration of the Voting Rights Act of 1965, illustrated by Shane W. Evans.

Marjorie Priceman, illustrator of many acclaimed picture books, has won Caldecott Honors for her illustrations in Zin! Zin! Zin! A Violin! by Lloyd Moss and Hot Air: The (Mostly) True Story of the Frist Hot-Air Balloon Ride, which she also wrote. She lives in Lewisburg, Pennsylvania.
Praise For Jazz Age Josephine: Dancer, singer--who's that, who? Why, that's MISS Josephine Baker, to you!…
* "Even though the ranks of picture-book biographies of significant artists (many of whom kids have likely never heard of) have swollen considerably in recent years, this one about the singer, dancer, and all-around entertainer Josephine Baker still manages to dazzle. Much of the credit for this goes to Winter, who only loosely follows the tried-and-true format of using the artist's life as an inspirational model to embrace talent, work hard, overcome adversity, and follow one's dreams. The biographical details—how she would dance on the streets of St. Louis for spare change as a girl, got her big break as a chorus girl in New York, and then found fervent acclaim in Paris as a "symbol of the American Jazz Age"—are covered in broad strokes, with more attention given to recreating the style and swagger of her onstage performances. With pages that sometimes have little more than riffs on "Boodle-am boodle-am boodle-am SHAKE," Winter's syncopated language dances nearly as much as the energized, loose-limbed figures in Priceman's kinetic artwork to convey the spirit, as much as the life, of the subject. An author's note supplies more concrete biographical details, but the true potential in this book lies in its ability to get little ones whipped up into an ebullient, dancing fizz, sharing in the joys of rhythm."
— BOOKLIST, November 1, 2011, *STAR

Jazz Age Josephine
Jonah Winter, illus. by Marjorie Priceman. S&S/Atheneum, $16.99 (40p) ISBN 978-1-4169-6123-9 The life of entertainer Josephine Baker isn't an easy one to translate to the picture book form, but Winter and Priceman attack her story with a gusto worthy of Miss Josephine herself. Opening with her impoverished childhood in St. Louis, Mo., Winter (Barack) uses the riffs and rhythms of the blues music structure to show how a young Josephine embraced an energetic stage presence early on ("So Josephine made funny faces, stuck out her tongue, and crossed her eyes./ Yes, Josephine made funny faces, stuck out her tongue, bugged out her eyes"). Leaving town due to racial strife, Josephine fled to New York City, broke onto Broadway, and—fed up with racist roles she was asked to play—decamped for France. Winter switches up his rhythms to match the mood, first with jazzy staccato blasts ("Gay Paree!/ Josephine!/ Here's an act/ they've never seen!") and later with a more contemplative ballad. Caldecott Honor artist Priceman (Hot Air) contributes exuberant gouache and ink paintings that capture Josephine's every impish facial expression and knee-knocking, hip-shaking dance move. It's a rollicking tribute to a remarkable, trailblazing woman. Ages 4–8.

--Publishers Weekly, November 28, 2011, *STAR

"Using the rhythm and pacing of blues lyrics, Jonah Winter (Diego) unspools the biography of dancer, singer, performer and activist Josephine Baker. Marjorie Priceman's (One of Each) loose line and expressive gouache-and-ink illustrations evoke the sensuality of the dances that rocketed Baker to the top.... Brava!" -- Shelf Awareness

* "Winter, a prolific author of picture-book biographies, uses rhyming couplets and verbal riffs, accentuated by lively typeface, for a highly energetic telling. "It's the Shake, / the Shimmy, / and the Mess Around! / No one sleeps / when she's in town!" Priceman, a Caldecott Honor recipient, uses her trademark swirling lines and bright colors in inks and gouache to show off Baker's fantastic moves at almost cinematic speed..... In any consideration of noteworthy lives, Baker stands tall and sparkles as a determined, brave and singular woman of color."
Kirkus Reviews, January 1, 2012 *STAR

"Winter's language—bursting with the riffs and rhythms of the Jazz Age—will have kids shaking and shimmying. Winter has a great ear for sketching out the life of the entertainer Josephine Baker, from the miseries of her childhood in St. Louis to her triumphant success in Paris. It's an ebullient, kinetic ride, kept in constant visual motion by Marjorie Priceman's swirling lines and jazz-hot colors."
--New York Times Book Review

Winter, Jonah

Jazz Age Josephine

Illustrated by Marjorie Priceman. 2012. 40pp. $16.99 hc. Atheneum (Simon & Schuster). 978-1-4169-6123-9. Grades PreK-3

This title is a picture book biography of Josephine Baker. Growing up in the jazz age of the 1930s, she got her start in a chorus line in New York City. Because her talents were never fully recognized in the United States, she went to Paris, where she became famous. The text style is appealing, easy-to-read, and fits the jazz theme. Colorful illustrations show lots of expression and motion. The cover depicts Josephine dancing and will entice the reader to open the pages and take a look. Children will enjoy reading this easy biography. Sue N. Howard, Educational Reviewer, Memphis, Tennessee

Recommended

--Library Media Connection, May/June 2012

"Priceman's exuberant style fits Baker perfectly as she dances across the pages.... Winter does an incredible job of charting Baker's triumphs and the glorious silliness of her stage acts in hip and lively verse while underscoring the persistant sadness of her exile."
--San Francisco Chronicle