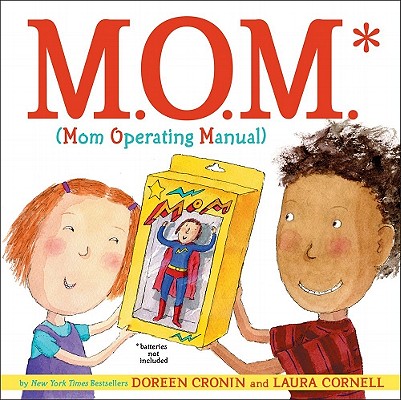 M.O.M. (Mom Operating Manual) (Hardcover)
Atheneum Books for Young Readers, 9781416961505, 56pp.
Publication Date: October 4, 2011
Description
Congratulations You are the proud owner of a Mom. This means you have someone to make you sandwiches, someone to drive you to soccer practice, and someone--for reasons unknown to man--who is able to hold your snotty, used tissues in her own pocket without gagging. A well-functioning mom is essential to domestic harmony and general wellbeing. Yet despite their status as the most advanced humans on the planet, moms do need some daily care and maintenance to keep them running smoothly. This book explains everything. Mom requirements include, but are not limited to: light watering, the crust of peanut butter sandwiches, and some peace and quiet every now and then for crying out loud. And there's added bonus information Learn to spot early warning signs of mom-pattern-crankiness and to recognize when mom might need another cup of coffee. A mom's make and model will vary by family, but the simple fact remains: Take care of Mom...and she'll take care of you.
Praise For M.O.M. (Mom Operating Manual)…
"In this era of Tiger Mothers, attachment parenting, the mommy track and The Three-Martini Playdate, Cronin and Cornell's collaboration will strike a nerve with moms looking for a laugh and a bit of validation—if only they can find the time to read it!" - KIRKUS, April 15, 2011



"We admit it: the new laugh-out-loud book M.O.M. (Mom Operating Manual), by Doreen Cronin and Laura Cornell, appeals to us as moms as much as it will to our kids. The 56-page text is packed with humorous tidbits about what truly makes us tick (exercise gives us a legitimate reason to put on our favorite sweatpants) as well as quirky insights ("… despite their size, moms can sleep on as little as three inches of bed. Science has no explanation for this"). Don't be surprised if you find yourself chuckling over the pages long after your kids have fallen asleep." -- Disney Family Fun Magazine
Advertisement