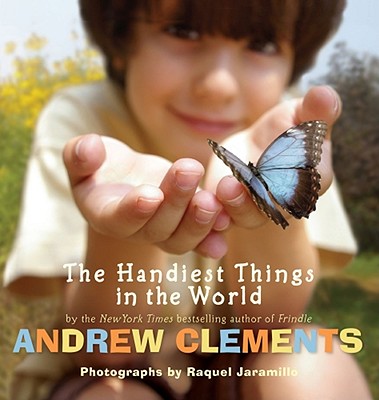 The Handiest Things in the World (Hardcover)
Atheneum Books for Young Readers, 9781416961666, 48pp.
Publication Date: May 25, 2010
* Individual store prices may vary.
Description
The mother of invention is right at your fingertips! Ten knuckles, two thumbs, two flat palms, and all those fingers—but our hands can be so much more.

They were once the first pair of earmuffs, a primitive sun visor, and a convenient set of chopsticks. The work done by hands centuries and centuries ago has paved the way for many of our favorite and most useful tools. The always clever Andrew Clements reminds us all that the mother of much invention is right at our fingertips.
About the Author
Andrew Clements is the author of the enormously popular Frindle. More than 10 million copies of his books have been sold, and he has been nominated for a multitude of state awards, including two Christopher Awards and an Edgar Award. His popular works include About Average, Troublemaker, Extra Credit, Lost and Found, No Talking, Room One, Lunch Money, and more. He is also the author of the Benjamin Pratt & the Keepers of the School series. He lives with his wife in Maine and has four grown children. Visit him at AndrewClements.com.

Raquel Jaramillo is a designer and photographer. She lives in Brooklyn, New York.
Praise For The Handiest Things in the World…
This unusual concept book looks at all the things that hands can do and the tools that help do them better. On a typical double-page spread, two short rhyming sentences are paired with photos. The first shows achild's hands performing a job, while the next shows them using a tool. The tool may be named (a child mixes batter in a bowl, accompanied by the text, "Sticky fingers make a mess. / Mixers make the mess much less"), but usually it is referred to by pronoun, creating a simple name-the-object game, as in "Tidy is the way to be. / This will help enormously." In the first picture, a girl untangles her hair with her fingers; in the next, with a comb. A bit longer, more complex, and less predictable than most picture books presenting concepts, this may appeal to somewhat older kids as well as preschoolers. Excellent color photos of different children engaged in everyday activities enhance the book's appeal. — Carolyn Phelan, BOOKLIST, March 1, 2010



What are the handiest things in the world? Hands that hold dogs, hands that count, hands that pick up good foods to eat and hands that "[t]ap in rhythm, keep the beat." But Clements makes the point that our oldest tools also lead to lots of other useful objects: dog leashes, calculators, chopsticks and drumsticks to name a few. In sprightly rhyme, especially after the wordy opening spread, the actions of children using their hands are followed on the opposite pages by their use of tools created for the same purpose. Jaramillo's photos are a delight; the left-hand pages sometimes focus only on the hands and then the right-side photos pull back to show the child using another object. There is some ethnic diversity, but despite the "world" in the title, this is not a book about different countries. The end pages are composed of small squares arranged checkerboard-style, showing additional photos that relate to the images in the main text; these could be used to play an informal matching game. Pure fun that will spark young imaginations. -- KIRKUS, April 15, 2010

The title and artfully composed cover photo of a butterfly perched on a child's cupped hand offer clues to what lies within this warmhearted and deceptively simple book. Clements (Dogku) and Jaramillo pay tribute to what hands are useful for—and to some, well, handy devices they've inspired. Crisp, close-range digital photographs of cheerful children portray what the solid, rhyming verse suggests. A picture of a child with a berry-stained shirt using fingers to pick up fruit is opposite one of a spotless child eating with chopsticks ("Mealtime happens every day./ Keep your fingers clean this way"). Similarly, a calculator replaces counting by hand, a comb works better than fingers, and a hand mixer makes for a less messy kitchen. The various items—a leash, watering can, and broom also show up—are never identified in the text, offering opportunities for kids to supply the names. A final image of two people holding hands reinforces the fact that, no matter what new technologies are created, these appendages remain indispensable: "For sharing love with tenderness... the hand itself is handiest. - PUBLISHERS WEEKLY, April 12, 2010

This fresh take on an often-overlooked appendage compares hands with everyday tools. Eating with fingers and then with chopsticks, walking a dog off a leash and then on, catching an insect with bare hands and then in a net, and digging with and without a trowel are a few of the 17 varied, engaging, and child-centered activities included. Each spread presents one activity. Youngsters are shown performing the task first by hand and then using the comparable tool. The parting page reminds readers that there is no substitute for hand-holding. The snappy, rhyming, oversize text is placed strategically to allow maximum legibility. The beautifully crafted photos highlight the children's hands through the use of short depth of focus and careful composition. Sized for group use, this title will provide numerous topics for exploration and discussion. It will work well for a one-on-one snuggle, too.–SLJ, May 2010