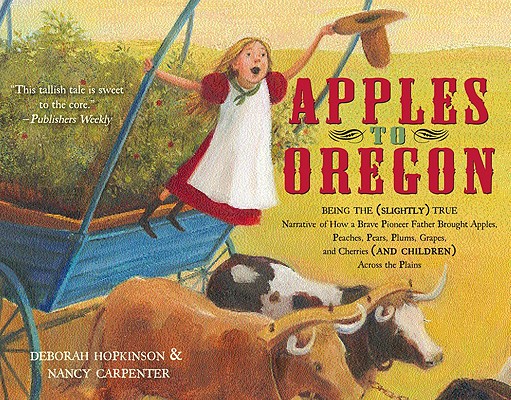 Apples to Oregon: Being the (Slightly) True Narrative of How a Brave Pioneer Father Brought Apples, Peaches, Pears, Plums, Grapes, and C (Paperback)
Being the (Slightly) True Narrative of How a Brave Pioneer Father Brought Apples, Peaches, Pears, Plums, Grapes, and C
Aladdin Paperbacks, 9781416967460, 40pp.
Publication Date: July 29, 2008
* Individual store prices may vary.
or
Not Currently Available for Direct Purchase
Description
Apples, ho
When Papa decides to pull up roots and move from Iowa to Oregon, he can't bear to leave his precious apple trees behind. Or his peaches, plums, grapes, cherries, and pears. Oh, and he takes his family along too. But the trail is cruel -- first there's a river to cross that's wider than Texas...and then there are hailstones as big as plums...and there's even a drought, sure to crisp the cherries. Those poor pippins Luckily Delicious (the nonedible apple of Daddy's eye) is strong -- as young 'uns raised on apples are -- and won't let anything stop her father's darling saps from tasting the sweet Oregon soil.
Here's a hilarious tall tale -- from the team that brought you Fannie in the Kitchen -- that's loosely based on the life of a real fruiting pioneer.
Apple Facts
More than 7,500 varieties of apples are grown throughout the world.
About 2,500 varieties grow in the United States.
The apple variety Delicious is the most widely grown in the United States.
Apples are part of the rose family.
The science of fruit growing is called pomology.
Fresh apples float. That's because 25 percent of their volume is air.
Cut an apple in half, across the core, and you'll see a star shape.
It takes apple trees four to five years to produce their first fruit.
It takes about thirty-six apples to make one gallon of apple cider.
Praise For Apples to Oregon: Being the (Slightly) True Narrative of How a Brave Pioneer Father Brought Apples, Peaches, Pears, Plums, Grapes, and C…
Publishers Weekly, starred review Prepared to perfection and served up with style, this historical nugget imagines an interlude in the life of cookbook pioneer Fannie Farmer.


New York Times Book Review Charming...clever...deliciously subversive, [it] yields new treats with every reading.


Booklist, starred review [A] delightfully humorous story about cooking and personal achievement.


Philadelphia Inquirer A happy combination of text and art.


School Library Journal, starred review A whimsical look back to when it all began.


Kirkus Reviews, starred review Delicious!
Advertisement