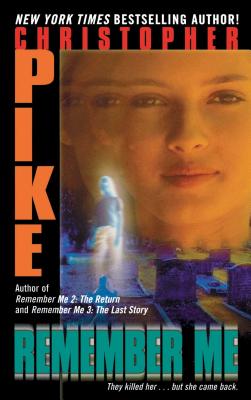 Remember Me
Paperback

* Individual store prices may vary.
Other Editions of This Title:
Paperback (9/22/2020)
Description
SHE DIDN'T UNDERSTAND THAT SHE WAS DEAD.

When Shari Cooper awoke at home after being at her girlfriend's birthday party, her family acted like she wasn't there. They didn't hear a thing she said. They wouldn't even look at her. Then the call came from the hospital. Her father and brother paled. Her mother started to cry. Shari didn't know what was wrong. Not until she followed them to the hospital. There she found herself lying on a cold slab in the morgue. The police said that it was suicide.

Shari knew she had been murdered. Making a vow to herself to find her killer, Shari embarks on the strangest of all criminal investigations: one in which she spies on her friends, and even enters their dreams -- where she comes face-to-face with a nightmare from beyond the grave. The Shadow -- a thing more horrible than death itself -- is the key to Shari's death, and the only thing that can stop her murderer from murdering again.
Simon Pulse, 9781416968191, 240pp.
Publication Date: November 27, 2007
About the Author
Christopher Pike is a bestselling young adult novelist and has published several adult books as well—Sati and The Season of Passage being the most popular. In YA, his Last Vampire series—often called Thirst—is a big favorite among his fans. Pike was born in Brooklyn, New York, but grew up in Los Angeles. He lives in Santa Barbara, California, with his longtime partner, Abir. Currently, several of Pike's books are being turned into films and in the fall of 2022, Netflix will be releasing a ten-part series entitled The Midnight Club, based on Pike's novel of the same name. The Midnight Club also draws from a half dozen of Pike's earlier works. Presently, The Season of Passage is being adapted as a feature film by Universal Studios while Chain Letter—one of Pike all-time bestselling books—is also being adapted by Hollywood. At the moment, Pike is hard at work on a new YA series.