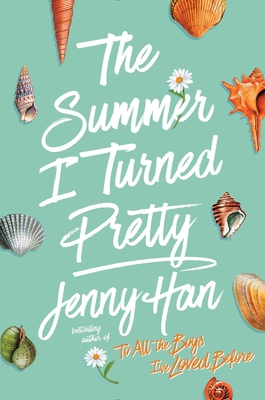 The Summer I Turned Pretty (Hardcover)
Simon & Schuster Children's Publishing, 9781416968238, 276pp.
Publication Date: May 5, 2009
Description
Belly's never been the kind of girl that things happen to. Year after year, she's spent her summers at the beach house with Conrad and Jeremiah. The boys never noticed Belly noticing them. And every summer she hoped it would be different. This time, it was. But the summer Belly turned pretty was the summer that changed everything. For better, and for worse.
About the Author
Jenny Han has her master's degree in creative writing for children from the New School. She lives in Brooklyn, New York. This is her second novel.
Praise For The Summer I Turned Pretty…
"This book has what every girl wants in a summer."
-- Sarah Dessen, author of Just Listen and Lock and Key

"The Summer I Turned Pretty offers a hard-to-resist combination -- a beach house, summer love, enduring friendship. A deliciously sweet read."
-- Deb Caletti, author of Honey, Baby, Sweetheart and Wild Roses

"If I could live inside this amazing book, I would. I would inhale the ocean air and soak up the sun, and I would hang out all day with kind-wonderful-funny-awkward Belly and her two known-'em-forever buds, Jeremiah and Conrad. I'd watch the three of them stop being kids and start being more...and I'd hope hope hope that when Belly falls in love -- 'cause you know she will -- she'd give her heart to the exact right boy."
-- Lauren Myracle, author of the ttyl series and Bliss

"This well-written coming-of-age story introduces 15-year-old Isabel, aka Belly, for whom summer has always been the most important time of year. Han (Shug) realistically balances Belly's naïveté with her awareness of the changes the years have brought. Han's novel offers plenty of summertime drama."
-- Starred review from Publishers Weekly

"Belly's dawning awareness of her sexuality and that of the boys is a strong theme, as is the sense of summer as a separate and reflective time and place. Readers get glimpses of kisses on the beach, her best friend's flirtations during one summer's visit, a first date."
-- Kirkus Reviews
Book Videos
Advertisement