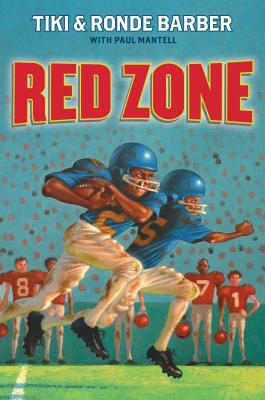 Red Zone (Hardcover)
Simon & Schuster, 9781416968603, 159pp.
Publication Date: August 31, 2010
Description
Finally the playoffs are in sight and everyone is playing at the top of their game. But what are these red spots that seem to be going around? Chicken pox? It can't be!
Praise For Red Zone…
Tiki and Ronde are eighth graders hoping for a run to the state championships. However, football fever has hit Hidden Valley Junior High School—literally, in the form of chicken pox—and when players start coming down with the pox, Tiki and Ronde fear the worst: If they get sick, what will the team do without its best athletes? Along with the usual sports messages of teamwork, hard work, keeping the faith, dreams and picking yourself up when you don't succeed, the novel adds didacticism and narcissism to the mix. Still, lots of football action, an exuberant use of exclamation points and a plot that runs like a footrace for the end zone will keep credulous young readers flying through the pages.



In the fourth book of the football series that began with Kickoff (2007), the Eagles junior-high team

struggles through the playoffs as the players battle their community's high expectations as well as chicken pox. Twins Tiki and Ronde each miss a game, but team members step up when the Eagles take the field, eventually playing in the state championship. Like the earlier books, this one emphasizes good values and teamwork on and off the field, but readers who come to the book looking for play-by-play football action will find plenty here, beginning with Kadir Nelson's cover illustration.
Advertisement