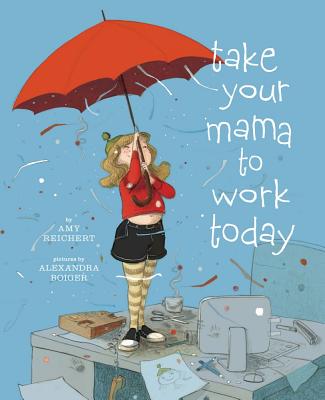 Take Your Mama to Work Today (Hardcover)
Atheneum Books for Young Readers, 9781416970958, 40pp.
Publication Date: March 20, 2012
Description
Coworkers beware--Violet's here to "help" at the office in this lively picture book that puts a fun-loving spin on the grown-up work world. When Violet visits her mom's office on Take Your Child to Work Day (or snow days, or school holidays, or babysitter-is-sick days), she is very helpful. She answers the phone (once she stops accidentally hanging up on people ), makes business cards (after adding a snazzy personal touch ), learns how to use the paper shredder (and discovers how to make her very own confetti ), and gives the boss pointers on his presentation. With a little mayhem--and a lot of joy--Violet makes her mark on the office Whimsical text and effervescent illustrations highlight the indelible spirit of Violet, an adorable character young readers and parents alike will delight in knowing.
About the Author
Amy Reichert knows from experience how much kids can help with grownup work. She couldn't have written this book without her daughter, Joan, and one funny seven-year-old named Julia. She is the author of three other children's books, including the award-winning While Mama Had a Quick Little Chat, illustrated by Alexandra Boiger. She lives with her family in Bethesda, Maryland. Alexandra Boiger was born in Munich, Germany. She has loved to draw and create funny characters since she was young, and after studying graphic design in Augsburg, Germany, her feature animation career led her to work with Warner Bros. and DreamWorks. She is the illustrator of numerous books, including Tallulah's Tutu. She lives with her family in California.
Praise For Take Your Mama to Work Today…
"Reichert embellishes a narrative style reminiscent of Laura Numeroff's in the If You Give… series and presents a sturdy heroine evocative of Kay Thompson's Eloise…. Many families will enjoy the interplay here between mother (efficient and loving) and daughter (sky's the limit)."
—Kirkus Reviews, January 1, 2012



"Violet proves to be a more benevolent, less spoiled version of Eloise…those still too young for the labor force should get a kick out of seeing how easy it is to discombobulate the button-down mind."
--Publishers Weekly, January 16, 2012



"Boiger's whimsical watercolor illustrations show the charismatic little helper playing chair tag to "liven things up" in a meeting and teaching an adult how to add a "snazzy personal touch" by lying face down on the copy machine. Lots of cheeky fun that's sure to elicit giggles."
—School Library Journal, February 2012



"Young Violet offers children plenty of advice for the professional world in this lighthearted tale that uses the circular, second-person style of Laura Numeroff's If You Give . . . series…. Eloise-esque illustrations expertly capture the exuberant girl's innocuous misbehavior as well as all of the exhausted adults.... Children will relate to Violet's enthusiasm to return to the office, and adults will recognize the coworkers' subtle eye rolling."
—Booklist, March 15, 2012



"Violet is the perfect office assistant on Take Your Child to Work Day—she helps the boss with his presentation, answers her mother's phone, and delivers packages to the mailroom. Her antics along the way "may" not be quite so helpful, but don't tell her that! Adorable illustrations by Alexandra Boiger ramp up the fun."
—Scholastic Parent & Child, April 13, 2012



"Boiger's pencil and black tea drawings, punched up with bits of watercolor, effectively display time and movement with just the right amount of chaos as she sets adults off-kilter and places Violet everywhere at once. Sly comparisons of coffee breaks to school snack time and mid-afternoon slumps to naptime remind adult readers that they probably really did learn all they need to know in kindergarten, but what really makes this narrative work is the fact that Violet is clearly the heir to Kay Thompson's Eloise. Her obstreperous energy, brazen confidence in the face of adults, and even her body type, with its poochy little tummy and continually upturned chin, charm audiences for the same reasons that Eloise did, suggesting that every stodgy grownup space needs a pixie.
Hence this is one of those books clearly aimed at two audiences: the children who will delight in reading about a freedom they would never enjoy without serious consequences, and the adults who need reminding that yeah, it's tough, but they love their kids anyway."
—The Bulletin of the Center for Children's Books, May 2012



"In these overloaded days of work/life blur, few parents need Take Our Daughters and Sons to Work Day as an excuse to drag children in…. And what's not to like when you get there? The secret candy drawer, "all the fuss" of doting (or procrastinating) colleagues and snack time, otherwise known as coffee break. This "Eloise"-without-the-attitude (and let's face it, the office is no Plaza) offers an amusing and semi-informative take on what Mom does all day. It may also come in handy."
—The New York Times Book Review, Children's Bookshelf, May 13, 2012
Advertisement