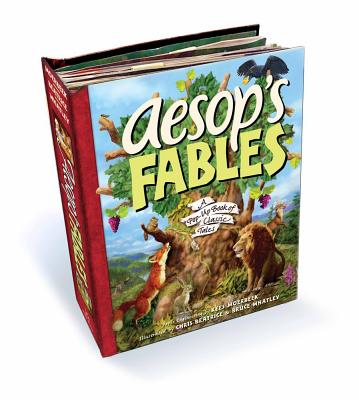 Aesop's Fables: A Pop-Up Book of Classic Tales (Board Books)
A Pop-Up Book of Classic Tales
Little Simon, 9781416971467, 14pp.
Publication Date: October 4, 2011
Description
Aesop's Fables leap off the page and into the minds and hearts of young readers in this dazzling pop-up collection of timeless tales. Favorite stories include "The Tortoise and the Hare," "The Goose That Laid the Golden Egg," "The Lion and the Mouse," and seven others, vividly illustrated by Chris Beatrice and Bruce Whatley with expert paper engineering by Kees Moerbeek. Always relevant and exceptionally entertaining, Aesop's Fables should pop up on every family's bookshelf.
Praise For Aesop's Fables: A Pop-Up Book of Classic Tales…
This book makes good use of the format to showcase 10 traditional tales. Five of the fables are presented on handsomely illustrated spreads, each including a dramatic 3-D sculpture that takes center stage and two smaller foldouts embellished with movable parts that contain the bulk of the text. Whether it's a smug-looking goose spreading her wings and lording it over a golden egg, a crow perched atop a tree clasping a piece of cheese in her beak while a hungry fox looks greedily on from below, or a rope-tangled lion that seems to bound right off the page, each centerpiece pop-up does an excellent job of grabbing readers' attention and drawing them into the story. In each case, a foldout or pull-tab animal cleverly incorporated into the scene can be manipulated to reveal the tale's moral. Five more fables, including "The Wind and the Sun," "The Dog and His Bone," and "Two Travelers and a Bear," are presented in a single spread via mini booklets. Throughout, rich earthy hues, lush forest landscapes, and vivid detail make the illustrations appealing. The straightforward text aptly conveys the gist of each tale, and a brief section offers background about Aesop. Share this book aloud to introduce these well-known fables but be prepared to hand it over to children eager to explore the delightfully detailed and fairly sturdy pop-up pages on their own.
SLJ, September 2011


AESOP'S FABLES [STARRED REVIEW!]
Illustrator: Moerbeek, Kees
Illustrator: Beatrice, Chris
Illustrator: Whatley, Bruce
Huge, extravagantly designed and detailed pop-up illustrations for 10 classic cautionary tales showcase a trio of uncommon talents. Beatrice and Whatley collaborate seamlessly on the visuals, producing in traditional outdoor or rural settings a cast of realistic but broadly expressive animal figures. Many of these, particularly the wonderfully snarky-looking goose laying gold-foil eggs and the frantic, massive lion that lunges up at viewers through an entangling net as his spread opens, will elicit involuntary "Whoa"s of startled admiration. The fables, one per opening except for a miraculously un-crowded quintet gathered on the central spread, are paired to large central tableaux and smaller but only slightly less complex pop-ups in corner booklets. All are pithy versions of the usual Aesopian suspects written in a fluid, contemporary style ("You do indeed have a beautiful voice," the fox assures the cheeseless crow, "but you don't seem to have a brain!") with some morals embedded and others laid out explicitly. Veteran paper engineer that he is, Moerbeek concocts ingeniously multilayered, interwoven constructions that are vulnerable to grabby little hands but, with careful supervision, sturdy enough to survive multiple shared readings. Timeless wisdom, splendidly decked out.
Kirkus, November 1, 2011 *STARRED
Advertisement