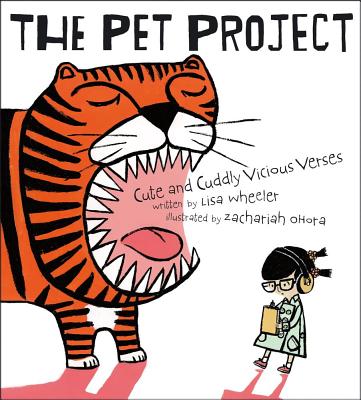 The Pet Project
Cute and Cuddly Vicious Verses
Hardcover

* Individual store prices may vary.
Description
Embark on a methodical, meticulous, and hilarious quest for the perfect pet in this wickedly witty cautionary collection of pet poems.

If you're the type that oohs and aahs
at furry faces, precious paws,
the words ahead may be alarming:
Animals aren't always charming.

If you think you'd like a cute and cuddly pet, you may need to do some research. Formulate a query. Devise a scientific plan. And be sure to write down every observation of the animals you encounter. Join one budding young scientist as she catalogs the pros and pitfalls of potential pet ownership in this assortment of zany and relatable poems that will change the way you look at cuddly animals—and give you the giggles.
Praise For The Pet Project: Cute and Cuddly Vicious Verses…
"When children read the foreword, which includes the warning, "Animals aren't always charming," they will know that this is not going to be your average, warm and fuzzy animal poetry book. The tongue-in-cheek verses serve as a "research guide" (and alert) for youngsters who are considering getting a pet…. Humorous first-person rhymes…. OHora's illustrations, done in muted acrylics, add to the whimsy…kids will love the silly humor and animal discussion."
— School Library Journal, March 2013

"Kids will enjoy the poems…. The funniest, and shortest, poem is about a hippopotamus: "Chances of getting a hippo: / zippo." OHora's acrylics make sure kids get the jokes, engulfing the girl in smelly, green hippo breath and gleefully depicting both excrement and icky eating habits. The microscope may seem anticlimactic after she's looked at hippos and monkeys, but her choice makes perfect sense. Parents will find it heartwarming, since it encourages an interest in science. Children might prefer the hippo, but they'll have fun reading the poop jokes out loud to their parents again and again."
— Kirkus Reviews, March 1, 2013

"Wheeler's simple poems are fun and funny, and they introduce a wide variety of critters. OHora's thickly lined acrylic illustrations add to the entertainment, with a bespectacled, science-minded girl (yay!) at the helm and humorous interpretations of animals, set on white pages. Also, this one might talk kids out of wanting a pet. You're welcome."
— Booklist, April 1, 2013

"OHora's chunky acrylic caricatures are well suited to Wheeler's lightly wicked humor (a pony is shown in a beauty salon chair, mane in curlers, kicking at the girl). The poems may not make children rethink their pet dreams, but they'll certainly laugh at the worst-case scenarios."
— Publishers Weekly, March 11, 2013
Atheneum Books for Young Readers, 9781416975953, 40pp.
Publication Date: April 2, 2013
About the Author
Lisa Wheeler has written many books for children, including The Pet Project, illustrated by Zachariah OHora; Spinster Goose, illustrated by Sophie Blackall; and People Don't Bite People and People Share with People, both illustrated by Molly Idle. She lives with her family in Addison, Michigan. Visit her online at LisaWheelerBooks.com.

Zachariah OHora is an award-winning illustrator whose work has appeared in numerous publications. His book Stop Snoring, Bernard! was the official selection for the 2012 Pennsylvania One Book, Every Young Child program. Visit him online at ZOHora.com.