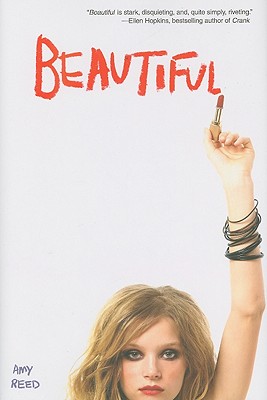 Beautiful (Hardcover)
Simon Pulse, 9781416978305, 232pp.
Publication Date: October 6, 2009
Description
When Cassie moves from the tiny town where she has always lived to a suburb of Seattle, she is determined to leave her boring, good-girl existence behind. This is Cassie's chance to stop being invisible and become the kind of girl who's worth noticing.
Stepping into her new identity turns out to be easier than Cassie could have ever imagined...one moment, one choice, will change everything.
Cassie's new existence both thrills and terrifies her. Swept into a world of illicit parties and social landmines, she sheds her virginity, embraces the numbness she feels from the drugs, and floats through it all, knowing that she is now called beautiful. She ignores the dangers of her fast-paced life...but she can't sidestep the secrets and the cruelty.
Cassie is trapped in a swift downward spiral tinged with violence and abuse, and no one--not even the one person she thought she could trust--can help her now. "Beautiful is stark, disquieting and, quite simply, riveting. Amy Reed is an author to keep on your radar." --Ellen Hopkins, bestselling author of Crank "A latter-day Go Ask Alice, Beautiful is raw, gritty, and powerful, an intense ice-pick jab to the heart. A stunning debut and a must-read." --R.A. Nelson, author of Teach Me "In crisp, clean prose Amy Reed places the reader right into the heart and mind and life of a girl who makes the choice to be one of the beautiful ones. Reed gives a disturbing and concise snapshot of what it can be like today for teens struggling with self-identity and peer acceptance when in a heartbeat they follow the 'wrong road.'" --M. Sindy Felin, National Book Award Finalist for Touching Snow
Praise For Beautiful…
"[Beautiful] is essentially a new-millenium Go Ask Alice with a similar blend of cautionary horror story and weirdly fascinated detail . . . . Chilling narration . . . . There's boldness in the book's willingness to make Cassie unsympathetic at times . . . . Train-wreck fascination galore . . . . It'll probably be passed around enthusiastically."
--The Bulletin of the Center for Children's Books, November 2009.



"The gift in this book [Beautiful] is Reed's ability to find the perfect words and use them in ways for which the reader is not ready. The writing is lonely, haunting, sensuous, and oddly beautiful."
--VOYA, August 2010
Book Videos
Advertisement