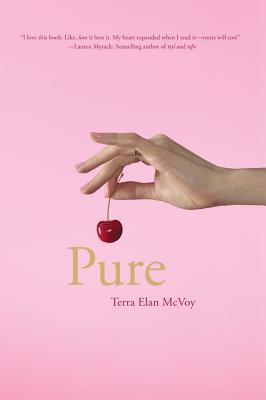 Pure (Hardcover)
Simon Pulse, 9781416978725, 336pp.
Publication Date: April 7, 2009
Other Editions of This Title:
Paperback (4/6/2010)
* Individual store prices may vary.
Description
Promise. Betrayal. Confession. Revenge.
Tabitha and her four best friends all wear purity rings, symbols of the virginity-until-marriage pledge they made years ago. Now Tab is fifteen, and her ring has come to mean so much more. It's a symbol of who she is and what she believes—a reminder of her promises to herself, and her bond to her friends. But when Tab meets a boy whose kisses make her knees go weak, everything suddenly seems a lot more complicated. Tab's best friend, Morgan, is far from supportive, and for the first time, Tabitha is forced to keep secrets from the one person with whom she's always shared everything. When one of those secrets breaks to the surface, Tab finds herself at the center of an unthinkable betrayal that splits her friends apart. As Tab's entire world comes crashing down around her, she's forced to re-examine her friendships, her faith, and what exactly it means to be pure.
"I love this book. Like, love it love it. My heart expanded when I read it—yours will too!" --Lauren Myracle, bestselling author of ttyl and ttfn
Praise For Pure…
"I love this book. Like, love it love it. My heart expanded when I read it -- yours will too!" -- Lauren Myracle, bestselling author of ttyl and ttfn



"First-time novelist McVoy takes on the hot topic of purity rings (hello, Jonas brothers!) and examines it from many angles. Tabitha's fast, funny, and very contemporary voice should be a hit with teens....McVoy is very successful at drawing characters kids will care about—even the parents are interesting. Anyone who has wondered about the ramifications of wearing a purity ring, both socially and religiously (and there's much thoughtful writing about Christianity here), will be left with plenty to think about." --Booklist



"The idea of purity rings and the deep commitment behind it is deftly explored." --Kirkus



"Which is more important, remaining loyal to ideals or loyal to friends? ....The story hits at several issues relevant to teens, including freedom of speech....Tabitha's relationships, particularly with her new boyfriend and her parents, are well-executed....Readers will likely admire Tabitha's openheartedness and unwillingness to see things in black and white." --Publishers Weekly




"Pure takes young readers through the daunting early years of high school, where hormones, alliances, obligations and relationships all start to run into one another. It's also written in McVoy's own ebullient style." --Georgia Online News Service




"Terra Elan McVoy's writing is, plainly speaking, wonderful." --The Compulsive Reader



"Terra Elan McVoy's writing is, plainly speaking, wonderful." --The Compulsive Reader
or
Not Currently Available for Direct Purchase