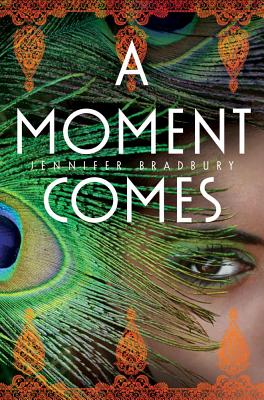 A Moment Comes
Hardcover

* Individual store prices may vary.
Other Editions of This Title:
Paperback (3/5/2019)
Description
Before India was divided, three teens, each from wildly different backgrounds, cross paths. And then, in one moment, their futures become irrevocably intertwined.

Tariq. Anupreet. Margaret. As different as their Muslim, Sikh, and British names. But in one moment, their futures become entirely dependent on one another's.

While the rest of India anxiously awaits the upcoming partition that will divide the country into two separate religious states, eighteen-year-old Tariq focuses on his own goal: to study at Oxford. But for a Muslim born and raised in India, there is no obvious path to England—until Tariq is offered a job translating for one of the British cartographers stationed in India, tasked with establishing the new borders.

Margaret, the cartographer's daughter, has only just arrived in India. But already she has discovered it to be hot, loud, and dull. She can't go anywhere alone for fear of the riots and violence. Eager for a distraction, she finds one in Tariq.

But it's Anupreet, another member of the staff, who has truly captured Tariq's eye. She's strikingly beautiful—but she's a Sikh, so not someone Tariq should even be caught looking at. And yet he's compelled to…

Against the backdrop of the nearly forgotten history of the partition of India, Jennifer Bradbury, as if with strands of silk, weaves together the heart-pounding tale of three teenagers on wildly different paths, on the verge of changing each other's lives forever.
Praise For A Moment Comes…
*"India, 1947: As Britain prepares to divide the country before leaving, three lives unexpectedly intersect.
The partition of India and Pakistan, based on a border drawn by British civil servants, rarely appears in Western literature, much less fiction for teens. Bradbury pens a careful, respectful—but fictionalized—account of the final days before the line between the countries was announced, recounting it in the voices of three teens. Impulsive, spoiled English Margaret may not be entirely likable, but her love for the strange country she finds herself in is wholly believable and makes her the perfect stand-in for the reader; through Margaret, India in this specific time comes to life, and hard questions about British culpability are asked. Much of Margaret's complex relationship with India plays out through her growing friendship with Sikh Anupreet, who has been caught in the violence between Sikhs and Muslims already, and Muslim Tariq, who hopes Margaret's father will be his ticket to Oxford since "[e]veryone listens to the men who have the right education from the right places." Through Tariq's and Anu's voices additional complexities and context are provided. Bradbury's research (detailed in an author's note) infuses but never overwhelms the narrative; the lack of solid resolution for the characters suits a book about a violent and confusing time.
Historical fiction that brings its history to bloody, poignant life: rare and notable."
— Kirkus Reviews, STARRED REVIEW
Atheneum Books for Young Readers, 9781416978763, 288pp.
Publication Date: June 25, 2013
About the Author
Jennifer Bradbury is the author of the middle grade novel River Runs Deep and of several critically acclaimed young adult novels, including A Moment Comes, Wrapped, and her debut, Shift—which Kirkus Reviews called "fresh, absorbing, compelling" in a starred review. Shift was picked as an ALA and a School Library Journal Best Book for Young Adults and is also on numerous state reading lists. She taught in Chandigarh, India, and teachers still in Burlington, Washington, where she lives with her family.
or
Not Currently Available for Direct Purchase