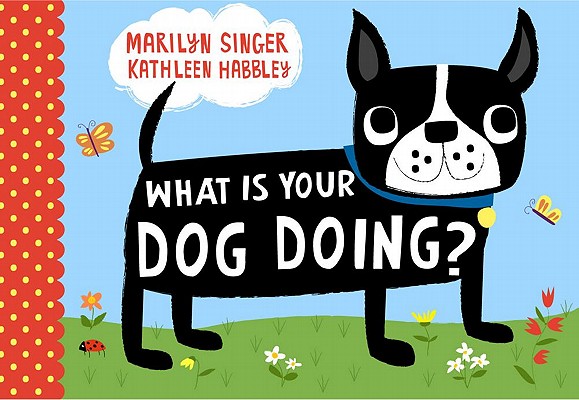 What Is Your Dog Doing? (Hardcover)
Atheneum Books for Young Readers, 9781416979319, 32pp.
Publication Date: June 7, 2011
* Individual store prices may vary.
Description
This colorful, young read-aloud about all things canine is doggone fun. Woof!

Sit. Stay. Roll Over. But, dogs can do so much more than that! Sledding. Shedding. Inspecting. Protecting. Paddling laps. Dancing? Perhaps! Be it a working dog or a playing dog, man's best friend can be pretty darn busy. This energetic, rhyming text paired with vibrant, playful illustrations is sure to get dog lovers everywhere eager to teach their old dogs some new tricks.
About the Author
Author of more than one hundred books in many genres, Marilyn Singer is the winner of the 2015 NCTE Award for Excellence in Poetry for Children. Her works include Mirror, Mirror, which was an ALA Notable Book, has won the Cybils Award for poetry, and was on eight major best-books-of-the-year lists; Venom, an NCTE Orbis Pictus Honor Book for Outstanding Nonfiction for Children; Fireflies at Midnight, a School Library Journal Best Book; and Tallulah's Tutu and its sequels. She lives in Brooklyn, New York, and Washington, Connecticut, with her husband and several pets. Visit her online at MarilynSinger.net.

Kathleen Habble lives and works in Wheaton, Illinois. When she isn't doodling editorial and commercial work, she's at her local animal shelter doing "dog research"—and helping out. This is her first picture book. Visit her online at KathleenHabbley.com
Praise For What Is Your Dog Doing?…
What Is Your Dog Doing?
Marilyn Singer, illus. by Kathleen Habbley. S&S/Atheneum, $12.99 (32p) ISBN 978-1-4169-7931-9 Newcomer Habbley brings 1960s cartoon–style spreads bursting with color and action to Singer's (Mirror, Mirror) direct, telegraphic lines: "Dog sharing/ Dog daring/ Dog in a chase/ Dog in disgrace./Brilliant dog that loves to herd,/ Famous dog that gets chauffeured." "Dog sharing" shows a hound with a goofy expression pushing his stuffed toy toward a demure poodle with beribboned ears--a spread in which the blue of the toy, the umber of the hound's fur, and the white of the poodle vibrate against a field of solid red. For "Dog daring," a small, white terrier rides in the sidecar of a motorcycle, zooming straight toward viewers. "Dog in a chase" is a bathtub escapee, and the "Dog in disgrace" is a doleful basset hound who holds a tulip in his mouth and wears a "Who, me?" expression, the whole given warmth and energy by the bright orange background. The combination of matte pages and intense colors creates a silk-screen-like effect, and the crisp edges of the shapes please, too. A companion volume about cats would be just the thing. Ages 3–7.

--Publishers Weekly, April 25, 2011