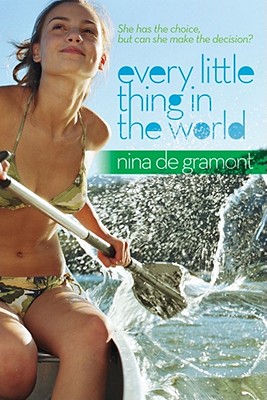 Every Little Thing in the World (Paperback)
Atheneum Books for Young Readers, 9781416980155, 282pp.
Publication Date: April 26, 2011
Other Editions of This Title:
Hardcover (3/23/2010)
Compact Disc (3/23/2010)
* Individual store prices may vary.
Description
Sixteen-year-old Sydney Biggs is a "good kid." Smart, pretty, self-aware. No one doubts that she'll go far in life. But, lately her mother worries that Sydney is wandering down the wrong path and getting all caught up in petty teenage rebellion and shenanigans. When Sydney and her best friend Natalia "borrow" a car to go to a party and then get escorted home by the police, their parents pack them up and ship them off to a hard-love wilderness camp--to stop this behavior before it gets out of hand, before things go too far. The problem is, they already have. Sydney--the "good kid"--is pregnant. In the wilds of Canada, where the girls are to spend the next four weeks canoeing, camping and foraging for food, time is ticking, because Sydney isn't sure what she wants to do about her pregnancy. And she certainly isn't expecting the other heady issues that will confront her as she forges friendships with her adventure-mates, including a guy who makes it no secret that he is a major thug and a teen television heartthrob with a secret of his own, not to mention her own best friend -- who is very adamant about what Sydney should do.
Praise For Every Little Thing in the World…
Critically acclaimed adult author de Gramont makes her YA debut in this novel of summer transformation. After 16-year-old Sydney learns that she is pregnant, she and her glamorous best friend, Natalia, try to track down the boy Sydney had sex with and end up in trouble with the police. Sydney keeps her secret from both her frustrated, divorced mother and her father, who ships her off to a Canadian summer camp. Natalia joins her, and as the girls paddle through the wilderness, they wrestle with Sydney's options. Friction grows as Natalia speaks out against abortion and then begins a charged friendship with Mick, a troubled kid who uses the n-word and claims to have killed a man. The author writes with frank authenticity about teens: their inner and outer dialogues, their gradual self-awareness, and their puzzling choices, particularly about sex. The girls' ultimate acceptance of Mick, for example, feels both realistic and unsettling. More than Sydney's dilemma or the camp dynamics, though, it's the parent-child relationships, both loving and fraught, that may resonate most with YAs.
— Gillian Engberg, BOOKLIST, March 15, 2010



Sixteen-year-old Sydney has just learned that a casual fling has left her pregnant ("I hadn't felt like I knew him well enough to remind him about the condom issue"). When Sydney's best friend Natalia steals her mother's car to take Sydney to confront the father, the girls are caught, and Sydney's father signs Sydney up for a one-month canoe trip to help her rethink her life's direction. And Sydney does plenty of thinking, even after Natalia finagles her way onto the wilderness trip, which comes with some physical and emotional highs and lows. Sydney's turmoil about the pregnancy (she's kept it from her parents and plans to have an abortion when she returns) is realistic and well plotted; she faces added pressure from Natalia who, after revelations about her own birth circumstances, partly sees herself in Sydney's baby. Sydney's complex relationships with her single mother and idealistic but distant father are authentic and poignant. In her first novel for teens, de Gramont ably captures Sydney's reflective journey from a passive girl to a young woman ready to make the biggest decision of her life. Ages 14–up. (March 1, 2010) - Publishers Weekly



A deft and poignant exploration of reproductive choices. In spite of informative sex-education classes at her private school in New Jersey, 16-year-old Sydney Biggs gets pregnant with a boy she barely knows from a nearby, less-affluent town. Her best friend, the "lean, sleek, and raven-haired" Natalia Miksa, is the only one she tells. When the girls are caught by the police for ostensibly stealing Natalia's parents' car to sneak out to a party, Sydney's angry and worried mother sends her to live with her rigid (anti-processed-food) father, who thinks that a month at a wilderness adventure camp, canoeing on a lake in Ontario, will be good for her. She's part of a group of eight campers, including Natalia, a tattooed "Youth at Risk" and two young counselors. De Gramont's compelling coming-of-age story, often poetic, compassionately probes the dilemma of and complex choices surrounding Sydney's pregnancy. As told from Sydney's point of view in an authentic adolescent voice, her growing self-awareness of "what's discovered after losing your way" is both moving and hopeful. (Fiction. 14 & up)
KIRKUS Reviews
or
Not Currently Available for Direct Purchase