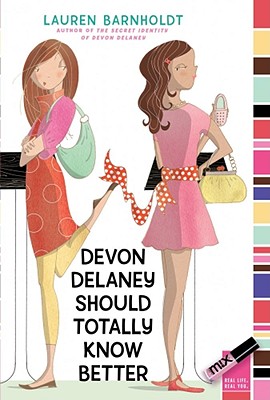 Devon Delaney Should Totally Know Better (mix) (Paperback)
Aladdin, 9781416980193, 288pp.
Publication Date: September 22, 2009
* Individual store prices may vary.
Description
Devon Delaney cannot believe she's lying again. But the thing is, she couldn't help it. Her new boyfriend, Luke, is talking to his (gorgeous) ex-girlfriend, Bailey Barelli (!!!), every single day in mock trial. Devon couldn't just stand by and let him find out that she'd never dated anyone else before. Could she? Oopsie. Too late now.
To show how totally unaffected she is by Bailey's obvious Luke hang-up, Devon invents a fake ex-boyfriend of her own: Greg. Fab! What could go wrong? But it isn't long before Devon finds herself in the middle of another supergigantic lie. Can Devon come clean in time to keep the guy? Or will she lose everything due to another lie?
About the Author
Lauren Barnholdt is the author of the teen novels The Thing About the Truth, Sometimes It Happens, One Night That Changes Everything, Two-way Street, Right of Way, and Watch Me. She is also the author of the middle grade novels The Secret Identity of Devon Delaney, Devon Delaney Should Totally Know Better, Four Truths and a Lie, Rules for Secret-Keeping, Fake Me a Match, and the Girl Meets Ghost series. She lives in Waltham, Massachusetts. Visit her at LaurenBarnholdt.com.