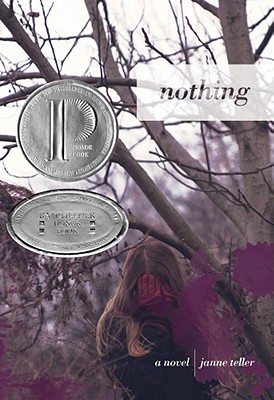 Nothing
Hardcover

* Individual store prices may vary.
Other Editions of This Title:
Digital Audiobook (9/12/2011)
Paperback, Spanish (6/13/2017)
Paperback (3/20/2012)
Paperback, Chinese (7/4/2013)
Compact Disc (9/13/2011)
Paperback (4/1/2011)
Compact Disc (9/13/2011)
Description
When Pierre-Anthon realizes there is no meaning to life, the seventh-grader leaves his classroom, climbs a tree, and stays there. His classmates cannot make him come down, not even by pelting him with rocks. So to prove to Pierre-Anthon that life has meaning, the children decide to give up things of importance. The pile starts with the superficial—a fishing rod, a new pair of shoes. But as the sacrifices become more extreme, the students grow increasingly desperate to get Pierre-Anthon down, to justify their belief in meaning. Sure to prompt intense thought and discussion, Nothing—already a treasured work overseas—is not to be missed.
Praise For Nothing…
"Pierre Anthon left school the day he realized that nothing was worth doing, because nothing meant anything anyway," opens Teller's haunting novel, a violent sequence of events sparked by a seventh-grader's decision to leave school and live in a plum tree. Pierre's fellow students are confused and then outraged by the boy's actions and taunting, and they decide to prove Pierre's philosophy wrong by creating a hidden pile of objects that demonstrate meaning in life. It starts out innocently enough, with shoes and boxing gloves, but anger surfaces. The frustration and fury the children feel, as they challenge each other to sacrifice increasingly "meaningful" things, is visceral and chilling. Soon the pile includes the severed head of a dog, the exhumed coffin of a child, and a desecrated statue of Jesus, among other gruesome objects. Sofie is forced to give up her "innocence"; Hussain gives up his faith; and Jan-Johan loses his index finger. Matters don't improve once the stash is discovered by the community either. A provocative and challenging parable about human instability. Ages 12–up. –Publishers Weekly (Feb.) STARRED REVIEW

Indelible, elusive, and timeless, this uncompromising novel has all the marks of a classic. A group of Danish seventh-graders have their insulated suburban world jolted when classmate Pierre Anthon stands up and announces, "Nothing matters." He promptly takes up residence in a plum tree and creates an existential crisis among the group with his daily reports on the pointlessness of life. Feeling a need to refute the alarming notion, the kids decide to assemble a pile of objects that will prove Pierre Anthon wrong. It starts simply: Agnes gives up her favorite shoes; Dennis, his beloved books. But as each sacrifice grows in intensity, each kid enacts revenge by demanding an ever-greater sacrifice from the next. With chilling rapidity, the "heap of meaning," which they keep stored in an abandoned sawmill, is towering with gut-wrenching artifacts of their loss of innocence—if innocence is something that ever existed. Teller offers just enough character detail to make the suffering and cruelty palpable. The terse purposefulness of her prose may put off some readers, but that singularity is also what will endure the test of time. Already a multiple award winner overseas, this is an unforgettable treatise on the fleeting and mutable nature of meaning. — Daniel Kraus, Booklist STARRED REVIEW

The seventh graders of Taering School are much like any others, until Pierre Anthon has an existential crisis, climbs a tree and refuses to come back to school. The other students can't live their lives as usual with one of their classmates sitting in a tree, pelting them with unripe plums every morning and yelling, "In a few years you'll be dead and forgotten and diddly-squat, nothing." Determined to prove to Pierre Anthon that life has plenty of meaning, the students embark on a dire quest. Over the course of many months, each student is required to give up something full of meaning, something chosen by the previous sacrificing student. The sacrificial items start small—a favorite pair of shoes, a fishing pole—but become more and more dreadful as the pile of meaning grows. Quietly and without fanfare, the students' adventure develops into one that rivals Lord of the Flies for horror. The matter-of-fact, ruthlessly logical amorality of these teens is chilling. Gorgeously lyrical, as abetted by Aitken's translation, and dreadfully bleak. (Fiction, 13 & up) Kirkus Reviews STARRED REVIEW

On the first day of seventh grade, Pierre Anthon announces that life has no meaning and walks out of school. Everything, he has concluded, is a useless step toward death. Pierre's shaken classmates scramble to prove him wrong. They begin to assemble a "heap of meaning" in an abandoned sawmill. Each child must add a possession of the others' choosing. The children's need to avenge their losses spins out of control. A Muslim boy gives up his prayer mat and spirals into a crisis of faith. Another child must contribute the head of a beloved dog. A boy demands a girl's innocence. That girl demands something even more unthinkable. This story is horrifying, and draws obvious comparison to William Golding's Lord of the Flies (1954). Despite the somewhat-idyllic provincial setting, the total lack of parental supervision is hard to swallow. Agnes, the narrator, is increasingly matter-of-fact as the horrors escalate, and this tempers the emotional impact of the story. This narrative distance also impedes character development; even Agnes remains unknowable. Her methodical telling sets a lulling pace, though, which sets the shocking events in high relief. The author writes sparely, even simplistically, and some chapters are only the narrator's haikulike commentary. Danish kids apparently love a good existential discussion, but the group's circular debates may bore and/or confuse American middle schoolers.– SLJ, April 1, 2010
Atheneum Books for Young Readers, 9781416985792, 240pp.
Publication Date: February 9, 2010
About the Author
Janne Teller was born in Copenhagen, Denmark, and has written several award-winning novels that have been translated into a number of languages. Nothing is the winner of the prestigious Best Children's Book Award from the Danish Cultural Ministry and is also a Printz Award Honor Book in the United States. Janne lives in New York City and Denmark.

Martin Aitken has a doctorate in linguistics and has translated hundreds of articles, poems, and novels. Born in England, he lives in Copenhagen, Denmark.
or
Not Currently Available for Direct Purchase