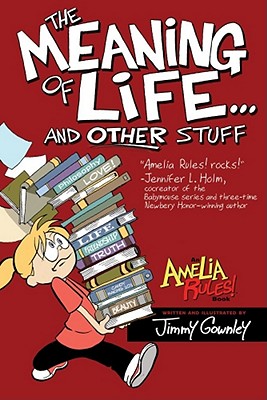 The Meaning of Life... and Other Stuff (Paperback)
Atheneum Books for Young Readers, 9781416986126, 160pp.
Publication Date: September 27, 2011
Description
Amelia McBride may be growing up, but she's feeling down. If there's one theme to her life, it's that nothing lasts: not her parents' marriage, not Aunt Tanner's support, not the clubhouse for the Gathering of Awesome Super Pals (G.A.S.P.), not even her new spot on the stupid cheerleading squad. And while she's learning all kinds of things about foot fungus, cheerwitches, and Reggie--who thinks Rhonda is CUTE? --there's still one thing Amelia can't figure out, and that's the meaning of life. It takes a grownup sort of tragedy for Amelia and her friends to realize that even when the world is scary, and life is as mystifying as ever, some things--like friendship--do last. In Jimmy Gownley's touching seventh installment of Amelia Rules , Amelia may not find all the answers--but she does know how to ask the right questions. Who needs answers, anyway?
Praise For The Meaning of Life... and Other Stuff…
"A standout graphic-novel series continues on its well-thought-out path...Gownley does not shy away from tough topics, presenting them in a way that is both approachable and understandable to kids. Reminiscent of an illustrated Alice McKinley, Amelia is growing up with her readership and taking them along on her often bumpy voyage. With all of the tribulations Amelia must deal with, she paints an accurate portrait of what preteens must deal with and how fast they sometimes have to grow up. Well done; here's to the next installment."
--Kirkus Reviews, July 15, 2011



"The seventh book in the Amelia Rules series is as well written and beautifully illustrated as readers have come to expect…the books remain a kid-friendly mix of humor and realism."
--Booklist, September 15, 2011
Advertisement