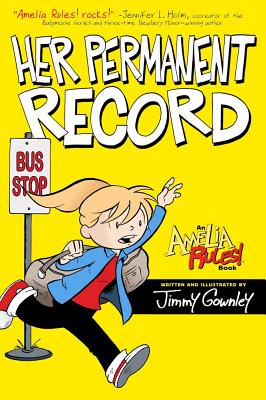 Amelia Rules!: Her Permanent Record (Paperback)
Her Permanent Record
Atheneum Books for Young Readers, 9781416986140, 160pp.
Publication Date: August 28, 2012
Description
Amelia embarks on her most epic adventure yet in this final addition to the Amelia Rules graphic novel series. From surviving her parents' divorce, to withstanding the terror of Joe McCarthy Elementary, to handling devastating crushes (not-so-)gracefully, Amelia Louise McBride has weathered her share of storms. But with her new spot on the cheerleading squad, Aunt Tanner's hordes of adoring fans, and Reggie's successful mission to mold young superheroes into productive--and cool--members of society, Amelia's sailing seems remarkably smooth.
Then Tanner disappears, humiliated by an ex-boyfriend's tell-all book, sending Amelia into full panic mode. And when she boards a bus on an epic journey to find Tanner--with frenemy Rhonda in tow, and a little help from a certain boy she never thought she'd see again--it quickly becomes clear that if Amelia has learned anything in her eleven years, it's that life is never through with surprises.
In his heartwarmingly hilarious eighth volume of the acclaimed Amelia Rules series, Jimmy Gownley takes us on Amelia's most thrilling adventure yet--and back again.
Praise For Amelia Rules!: Her Permanent Record…
"Readers who have followed Amelia's adventures in the previous seven volumes will happily tag along on this one, as Gownley's colorful, cartoony art subtly shows how Amelia and her friends have grown—they're now 11 years old. A fine finish for this kid-favorite series."
Advertisement