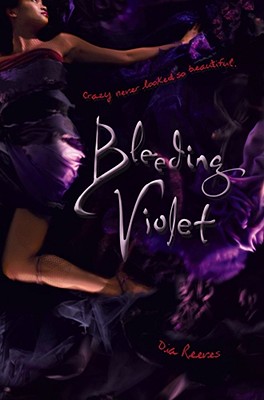 Bleeding Violet
Hardcover

* Individual store prices may vary.
Other Editions of This Title:
Paperback (12/7/2010)
Description
Love can be a dangerous thing....

Hanna simply wants to be loved. With a head plagued by hallucinations, a medicine cabinet full of pills, and a closet stuffed with frilly, violet dresses, Hanna's tired of being the outcast, the weird girl, the freak. So she runs away to Portero, Texas in search of a new home.

But Portero is a stranger town than Hanna expects. As she tries to make a place for herself, she discovers dark secrets that would terrify any normal soul. Good thing for Hanna, she's far from normal. As this crazy girl meets an even crazier town, only two things are certain: Anything can happen and no one is safe.
Praise For Bleeding Violet…
Poor Hanna has had a seriously rough adolescence. It's hard enough for her to accept the death of her beloved father and to manage her escalating mental illness, but when she shows up in the hometown of her mother (whom she's never met), she discovers that her mother wants nothing to do with her. What's more, the town itself has doors that open between worlds, often releasing evil forces onto the residents. Since Hanna has nowhere else to go, her mother agrees to let her stay, if she can prove that she can fit into this guarded, hostile town that considers outsiders merely fresh meat for monsters. Reeves immediately establishes a mysterious, disorienting perspective by allowing Hanna (who hallucinates conversations with her father but, as far as the reader is permitted to know, can also conjure up a swan whose actions impact the actual world) to be the only narrative voice describing the town of Portero and Hanna's efforts to settle into it. The resulting novel is wonderfully baffling, and as lush, warm, and conflicted as Hanna herself. Hanna is a ref reshingly unbalanced protagonist—unafraid of gore or her own sexual power while also being terrified of any loss and unable to handle simple high-school power negotiations. Her struggles are wrenchingly genuine and often even life-threatening (both against horrors released through the portals and the unrelenting clamor and chaos lurking in her own brain chemistry), and readers will likely literally sigh with relief when Hanna finally captures a bit of good to balance her world. -- BULLETIN, March, 1, 2010, STAR

An original plot, a unique protagonist, and plenty of weirdness makes Reeve's first novel a satisfying read for older teens. Hannah Jarvinen is a beautiful, birarcial teen looking for someone to love her. She speaks the Finnish language and cooks Finnish cuisine. She wears only purple to honor her dead father, whose ghost speaks to her. She is strong-minded, wild, lonely, and very troubled. She is also bipolar and suffers from halluncinations and fits of violet mania. When her aunt tries to put her in a mental institution, she takes a rolling pin and travels to Portero, Texas, to find her mother. In addition to her mother, she finds a town of black-clad people living in fear of strange monsters called "lures" and a group of monster hunters known as the Mortmaine. Portero contains doors to a dark world that can be opened with "keys" fashioned from bones. Being used to the strange, Hannah is not scared off, and instead becomes determined to prove to her mother that she can be accepted in a town where outsiders are called "transies" (or transients). She falls in lust with popular Wyatt, or Mortmaine. When she helps him to defeat five of the lures, she is hailed as a hero in the town and is compelled to learn more. She becomes Wyatt's lover, and soon she is by his side hunting demons. Her relationship with her mysterious mother, however, does not come as easily. She soon realizes that her mother has her own strange dark connections to Portero and the Mortmaine.

This teen novel is not for the faint of heart. There is plenty of blood, gore, violence, sex and bad decisions. The main character would make many parents cringe. Teens who crave all those things and a dose of the dark arts will love this novel. Although Hannah is not a character to emulate, she is interesting. The plot can be a bit confusing at times, and some situations just do not make sense. For instance, Hannah suffers no consequences for violently assaulting her aunt. Nevertheless it is a fantasy, so some suspension of disbelief is required when reading this interesting debut from an author to watch.

----VOYA April 2010
Simon Pulse, 9781416986188, 464pp.
Publication Date: January 5, 2010
About the Author
Dia is a librarian currently living in Irving, Texas.
or
Not Currently Available for Direct Purchase