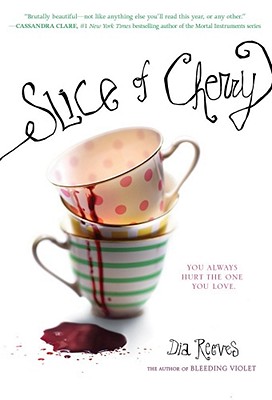 Slice of Cherry
Paperback

* Individual store prices may vary.
Other Editions of This Title:
Hardcover (1/4/2011)
Description
"Brutally beautiful — not like anything else you'll read this year, or any other." - Cassandra Clare, #1 New York Times bestselling author of Clockwork Angel

Kit and Fancy Cordelle are sisters of the best kind: best friends, best confidantes, and best accomplices. The daughters of the infamous Bonesaw Killer, Kit and Fancy are used to feeling like outsiders, and that's just the way they like it. But in Portero, where the weird and wild run rampant, the Cordelle sisters are hardly the oddest or most dangerous creatures around.

It's no surprise when Kit and Fancy start to give in to their deepest desire—the desire to kill. What starts as a fascination with slicing open and stitching up quickly spirals into a gratifying murder spree. Of course, the sisters aren't killing just anyone, only the people who truly deserve it. But the girls have learned from the mistakes of their father, and know that a shred of evidence could get them caught. So when Fancy stumbles upon a mysterious and invisible doorway to another world, she opens a door to endless possibilities….
Praise For Slice of Cherry…
"Brutally beautiful — not like anything else you'll read this year, or any other."
- Cassandra Clare, #1 New York Times bestselling author of Clockwork Angel



Reeves, Dia
Slice of Cherry
Simon Pulse, 2011 [512p] R* Gr. 9-12
Always close, sisters Kit and Fancy bond even more tightly after the Bonesaw Killer, their father, is convicted of multiple murders. They rarely even notice the fact that they are outsiders (even in the wacked-out town of Portero, where portals let in monsters and the townsfolk are never surprised by anything) as they fill their days with increasingly violent acts. Those acts seem to feed something in each of them, even though they also rid the town of bad guys (though occasionally their standards slip to include someone who could, perhaps, have done just fine with a stern talking to rather than . . . death). In come two brothers with enough secrets of their own to rival the girls', and suddenly romance mixes with gore, and love threatens to separate the sisters. The use of entries in Fancy's dream journal as chapter starts is a bit contrived, but it nevertheless works well to add insight into Fancy's brain, revealing her to be less obviously violent than Kit but much more disturbed overall. While the girls quietly use a parallel universe to perform horrific murders, their mother, a strong, proud woman who both loves her girls and occasionally fears them, keeps them in check and attempts, in her own eloquently mysterious ways (some supernatural, some strict maternal) to save her girls from whatever it is they need saving from. Reeves' women are stunning—brazening through life on a mixture of sexuality, vulnerability, instability, and brilliance that serves them well as they encounter monsters literal and figurative, internal and external. Fans of Reeves' first novel, Bleeding Violet (BCCB 3/10), will relish a second, though no more complete, glimpse at the deeply fascinating town of Portero and its bizarre, memorable residents. AS
--Bulletin of the Center for Children's Books, January 2011



"Twisted and creepy, this book is not for the faint of heart. Reeves sets no boundaries for herself, as readers witness the strange mind of a serial killer, possibly changing all perceptions of love and murder. Horrifyingly beautiful, the small, monster-driven town of Portero is rendered in the most captivating way. " --Romantic Times



"Reeves returns to her fictional East Texas town of Portero for a tale more gruesome, disturbing and shamelessly enjoyable than Bleeding Violet...Somehow, in this orgy of gore, a touching coming-of-age tale emerges, as the two emotionally stunted young women connect with community. The warm, fuzzy moral—that it's fine to be a serial killer as long as you're doing it to help others—will delight and entertain readers mature enough to appreciate that fictional morals needn't always coincide with real-life didacticism. This gleeful page-turner is a winner." - KIRKUS



"This is a memorable and utterly twisted coming-of-age story that reads like Dexter for (mature) teens, soaked in the paranormal--and blood."--Publishers Weekly
Simon & Schuster Books for Young Readers, 9781416986218, 528pp.
Publication Date: December 6, 2011
About the Author
Dia is a librarian currently living in Irving, Texas.