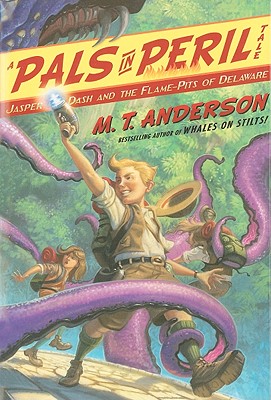 Jasper Dash and the Flame-Pits of Delaware (Hardcover)
Beach Lane Books, 9781416986393, 423pp.
Publication Date: September 8, 2009
Description
It is a land of wonders. It is a land of mystery. It is a land that time forgot (or chose specifically not to remember). Cut off from the civilized world for untold years by prohibitive interstate tolls at the New Jersey border, this land is called: Delaware. It is into the mist-shrouded heart of this forbidden mountainous realm that our plucky and intrepid heroes, Jasper Dash: Boy Technonaut, and his friends Lily Gefelty and Katie Mulligan, must journey to unravel a terrible mystery in this third weird and wacky installment of M. T. Anderson's Thrilling Tales.
About the Author
M. T. Anderson is the author of the first two books in the acclaimed Thrilling Tales series, Whales on Stilts and The Clue of the Linoleum Lederhosen, as well as The Astonishing Life of Octavian Nothing, Traitor to the Nation, Volume 1: The Pox Party, which won the National Book Award and a Printz Honor. Kurt Cyrus has illustrated many celebrated picture books, including Word Builder by Ann Whitford Paul, Buddy: The Story of Buddy Holly by Anne Bustard, and his own Tadpole Rex.
Praise For Jasper Dash and the Flame-Pits of Delaware…
*"The invention never flags."--Booklist, starred review.



"Metafiction at its most weirdly satisfying...Extremely funny, it's for adults, who will get at least half the references, and for children, who will get the other half. Cyrus's illustrations are integral and pretty darn amusing too."--Kirkus Reviews



"Anderson never takes his tongue out of his cheek in this uproariously entertaining combination of Indiana Jones, the Stratemeyer syndicate, and MADtv...Sly jabs at the overused tropes and cliched conventions of the action genre will surely be appreciated by the more sophisticated reader, and there is enoguh slapstick humor here to go around for those with less ironic tastes; any youngster looking for a laugh and an adventure will not be disappointed."--The Bulletin of the Center for Children's Books
Book Videos
Advertisement